If you are bored and exhausted with manual hard work and using manual tools to create logos for your brand, Looka is your first choice. This AI logo maker tool helps generate logos in a few minutes, not hours or days with complex pro software. It allows you to create as many logos as you wish and generate the most suitable one for you without any complex manual method.
What is Looka?
Looka is an AI-based software or program that automatically generates logos for your company. You can create unique logos that are not used by anyone else within no time. The fastest and quickest way to create logos is using Looka logo maker. A proper band logo maker that requires nill effort and provides a great number of features.
Looka is an amazing site for those people who have an interest in making logos. It allows you to create as many logos as you want without any effort. Now you can create a quick and accurate logo designed for your brand within no time. If you don't have any type of skills or experience in logo making, then you can use Looka as support in designing perfect logos for your company. You can create unique logos for business efficiently and precisely. All you have to do is simply choose the required style in which you have more interest or the one that will suit your company more. Just specify the criteria of your business, and the AI-powered Looka tools will do the rest of the work for you. Stop wasting your time on time-consuming manual logo-making editors when you can automatically generate logos more precisely.
Now you can get a custom logo within minutes which perfectly beats spending a lot of time manually making logos or spending money on hiring a professional to create a logo for your company. You can remove the back-and-forth that is often created or takes place between you and professional brand logo makers. If you want to create a logo, you can tell your thoughts to Looka and get a perfect logo for yourself. You can make adjustments to your logos within a few seconds. Various ways of customization features so that you can create a design of your imagination and make as many changes in your design as you want to. All of these features are available for free on the Looka platform for everyone. Here are some additional features of Looka to give you an idea about the Looka logo maker.
Features
Here is a list of its features with comprehensive details.
Logo Designs
With AI-powered tools, you can instantly generate more than 100 logos and custom design mockups. Enhance your creativity by changing the colors of logos; you can change any part of the logo you don't like. Choose the best symbols or create new ones for your logos. Adjust the size of the logos that perfectly suits your requirement. The Looka logo maker is an easily accessible platform.
Logo files
Many people have to face file issues because most formats are not available on the platform or they are not acceptable for your company when you download them on your device. After making the logo, you will have to change the format of the file to make it in use. Get yourself more than 15 logo files that you can use across all mediums. If you're creating high-resolution files, then you can get file types like SVG, PNG, EPS, and PDF. This does not end here. You can get black-and-white colors and transparent variations too.
Brand Kit
Empower your business s you can easily fulfill all your professional demands here at Looka logo maker. This brand logo maker provides professional quality marketing materials that allow you to grow your business. There are about 300 plus branded templates properly designed for you so you can add more beauty to your logos or you can have an idea about certain designs to create a new one for yourself, with 20 asset types that include invoices, flyers, and email signatures all these just for you at Looka.
Social Media Templates
As we all know that social media has a lot of influence on logo making as people usually share their work on their social media platforms. For this purpose, Looka provides already professional-level designed, ready-to-go versions of logos for your social media. You can customize your normal profiles with unique logos. You can make cover photos for your social media like Youtube, Twitter, Facebook, and more. The design of the posts that you can upload on social media is perfectly sized for your social media usage.
Business Card Designs
How do you call yourself a businessman when you do not even have a card for your company? Now creating your company cards is just a few clicks away with Looka band logo maker. You can use the brand kits provided by Looka to create and generate customized business cards that suit your business profile. You can have 20 professional quality design templates when you begin your work on Looka. It also provides certain logo designs for your business cards. After creating them on Looka you can send them to a printing service to print them.
Brand Info
Well, not everyone is born a professional brand logo maker; many people face a lot of issues in the beginning when they start making logos. Looka logo maker provides a proper guideline for your logos with modern fonts. You can get logo ideas about tailor brands, church logos, trucking logos, barber shop logos, and DJ logos, and find out the best design that suits your requirements to create a unique-looking logo for your work. You can easily build yourself a consistent and memorable brand on all mediums.
Pros
Instantly creates logos.

Without any manual effort or skills, you can create logos.

Available in all formats for printing.

300 plus templates, along with 20 plus assets.
Cons
You cannot upload your logo and customize it.

It does not provide logos for some prohibited words.
How to Use Looka to Make a Logo?
If you don't have proper knowledge about this tool, then here is an appropriate guideline with steps to help you acknowledge the usage of Looka. Simply follow the steps given below to accurately understand its usage.
Step 1
Firstly you will have to open the Looka logo maker on your browser by searching it online. If you want to jump to the page directly, click the Looka Logo Maker link in the previous text.
Step 2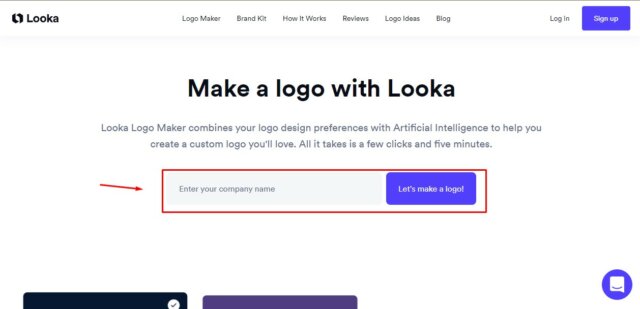 After opening the page of Looka you will have to write the name of the company that you are trying to make a logo for. The name of the company will give an idea of the AI system of look to understand your requirements.
Steps 3
Then type the criteria of the business or industry that what your company does. A simple name does not justify everything about your company. Just type something many related options will be shown below your search engine.
Step 4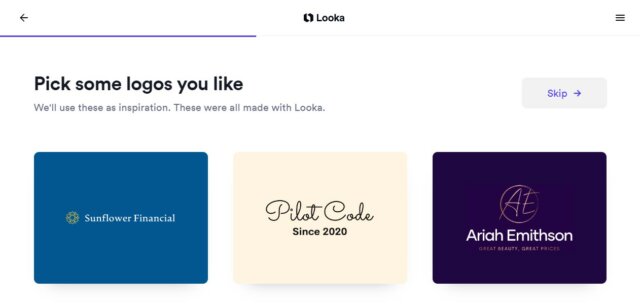 After typing the criteria of your work, you will get certain auto-generated logo designs for your company. You can either select one or skip it if you don't like them. It can save a lot of your time if you select one from here.
Step 5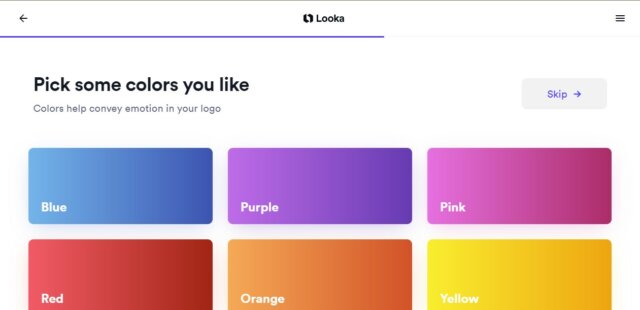 Then pick a color as without color there is no beauty. To make your logo more appealing, pick a color from various options given on Looka.
Step 6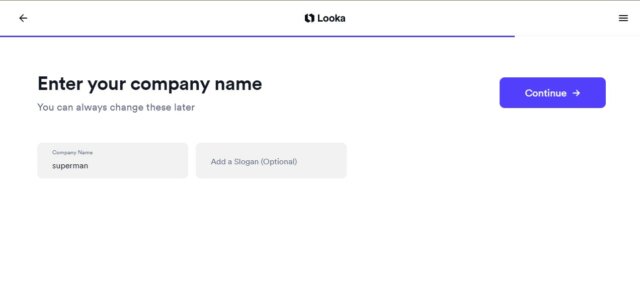 Then if you like, you can pick a slogan for your company. A proper slogan gives some hype to your brand or company and makes it more prominent. 
Step 7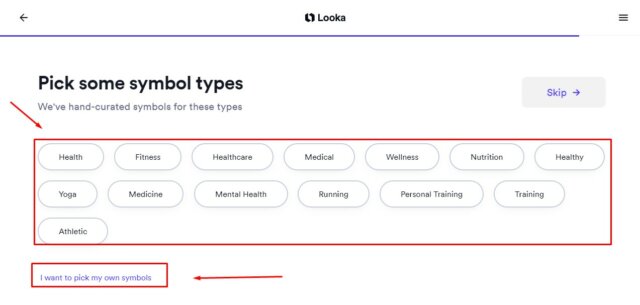 Then pick some symbols among various symbols given on Looka. You can either select one of the given symbols or pick your symbols that, depending on you, what you choose. After choosing them, click on continue.
Step 8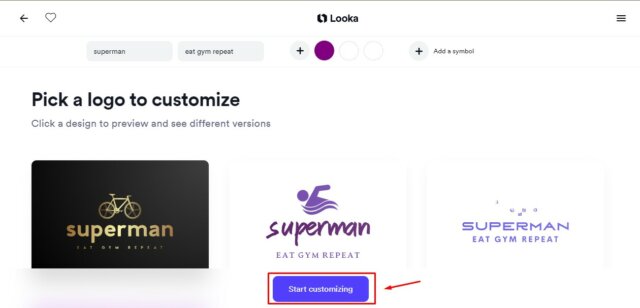 Now your auto-generate logo is ready with some simple clicks and choosing various options. Then you can further customize your logo if you like by clicking on the start customizing option given below the logos. In this part, many modern fonts are available to use.
Watch the video below and follow the instruction to make a logo now:
Conclusion
For professional platforms, you need to choose professional tools. To fulfill your demands related to logos, you can choose Looka as it is the best logo designer that uses AI to instantly fulfill all your demands within no time. 
More about AI logo maker: How to create a logo with Fiverr?
FAQs
Is Looka logo Maker free?
Looka logo maker is a useful tool for creating professional logos, but it is not free to use. Although it provides some free trials without even signing in, you can log in as a guest and create logos.
Looka is good for everyone who wants to start their business and create logos or cards for their company. Mostly for all beginners, this tool has many advantages.