In these modern times, there are two perspectives to writing an essay; either you write it yourself or either use a software/tool to write it for you. Considering the amount of progress AI (Artificial intelligence) has made up in the digital world, there is no doubt in saying that the results are astonishing. In this article, I will tell you how to write an essay with AI Essay Writer so that you can get to know what can be achieved for a student.
Writing by hand using a pen and paper is long gone now, as most people use their electronic devices for typing out the exact same sentences and paragraphs. As most things are concerned, we must understand that developed software has been making quite the advancements over the decade.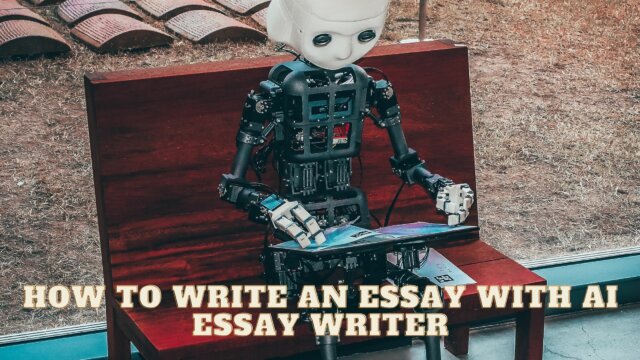 With an AI Essay Writer, what you are doing is basically hiring or employing a computer to do the job for you. This literally eliminates the proportions of human thinking, struggles to get content organized, and much more. There are some free ai essay writers that can get things done for you as well, but paid services are always one step ahead if taken by the right company.
Benefits of Using An AI Essay Writer
Before getting on with the task, let's understand the benefits of using an AI Essay Writer;
As a student, the basic constraint that most people face is time management. Students have 
so many things to do in very little time that they get really frustrated. Using an AI Essay Writer, one can simply task software to write an essay and get on with other things themselves. 
Effort is yet another factor that holds a great position when it comes to writing something. While working on an essay, there are a lot of efforts made in terms of thinking about what to write and how to organize all the knowledge in a perfect way. However, when you use an AI Essay Writer, all your worries are gone because the software handles everything from making an outline to finishing with a great concluding statement.
Unlike human writers, an AI Essay Writer can mostly very intelligent text that really sells upon reading. This is something pretty fascinating to experience if you are reading a text made by a bot.
Although the results are not that good, A quality result of essays can easily be generated with a little bit of human touch as well. Manage and adjust the content to make it look extraordinary.
While writing something or even doing something, human errors are always considered a must entity. It is quite inevitable that there will be a bunch of mistakes unless the writer is very careful. AI Essay Writers, on the other hand, are very precise and do not make any grammatical errors. 
How To Write An Essay With AI Essay Writer "Rytr"
There are a number of different AI writers available on the internet, but most of them are only available for paid users. Since we are focusing on making quality text with very little payment, Rytr.me could be an amazing fit for you. However, some other amazing Artificial Intelligence softwares are strongly capable and well deserving of a big price range.
Without any further ado, let's jump straight into the proportions of how to write an essay with an AI Essay Writer.
Rytr - Best AI Writing and Content Generator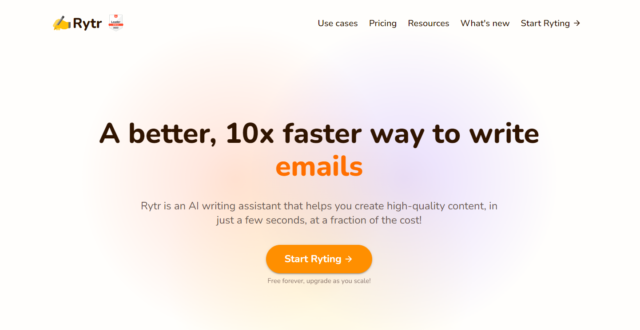 In order to use this tool for essay writing, consider these steps:
Go to

Rytr

, and while on the homepage, click on

Start Writing.
Another pop-up screen will load in front of the user. To start working on this AI Essay Writer, you will have to sign in using Google, Facebook, or any other option provided by the company itself.

After logging In, your trial will begin for 5000 words.

Select a language to your preferred option and select one of the multiple options according to your consent.

Next, you will have to choose a use case. In this option, you will be selecting the type of content required, for example, blog writing, Outline making, Email Writing, etc. You can also create a custom use case.

Once you have chosen a use case, Write a section topic, put in some keywords, apply the number of required variants and adjust the creativity level.

Click on Ryte For Me and let it process the information.

After a moment, it will start writing and create a document that you can further edit or alter.

For altering the written document words, even more, highlight the line/word/paragraph that you want to edit and select from the multiple options popping up below (You can either Command, Improve, Rephrase or turn the line into another paragraph)

Once you are done, Save the document and download it for your own usage.
Some other high-end and expensive AI writers include;
Jasper
Frase
WriteSonic
Dr. Essay
Conclusion
This is a complete guideline on how to write an essay with AI Essay Writer. However, in this tutorial, I have shown you how Rytr works as it is one of the best tools I have ever used for written content creation. You can also search for other AI Writers online and find out how they can work for you.
It is recommended to not buy any AI Essay writer at the very first glimpse; try working on the trial period for a while and learn how things work out. Purchase the subscription only after you are satisfied with the product and know that it is for you.
FAQ's
Q1: Can Jarvis AI Write Essays?
Ans: Jasper, formerly known as Jarvis AI, can create any kind of content you want; however, editing and human input are mandatory for quality content.
Q2: Can AI writing tools replace a professional essay writer?
Ans: At the moment, when it comes to creativity, there is nothing stronger than a human mind. Maybe in the coming future, AI Writing tools could create something much more reliable as compared to something created by a professional essay writer.