Removing an unwanted person from a photo is quite tricky for some people that are unaware of how to do it. Sometimes, removing unwanted objects can make the photograph become stabilized and more attractive. In this tutorial, I will be showing you one of the easiest methods on how to remove a person from a photo.
This process could easily be done through photoshop and on other supported platforms as well. However, Photoshop is a bit difficult to use but has the most decent results, even better than other tools in its competition.
How To Remove A Person From A Photo
From the two of these easy methods, I would encourage myself to demonstrate how to remove a person from a photo using photoshop. Consider taking notes or paying keen attention to the options.
Screenshots will be attached for the ease of our readers to get a better understanding if they miss out on something.
Method #1: Remove A Person From A Photo Using Photo Eraser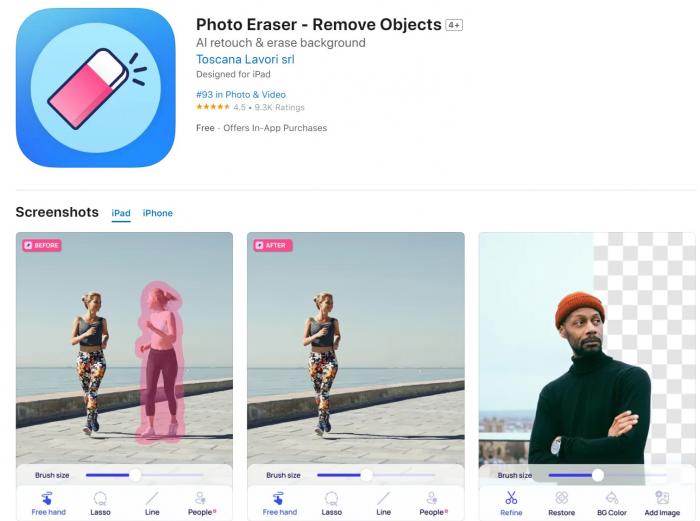 This is one of the simplest methods that you can get, and that too, on the palm of your hands. To remove person from photo easily and without photoshop using only your mobile device, download the application called 'Photo Eraser'. 
Download the application and open the image using the app only. Choose the photo from your gallery, and it will be opened in front of you.

Select the brush tool and zoom in on the person or object that you want to remove. Gently and attentively use the brush tool on the object and cover it up completely. If there are any shadows in the images, select those to remove them as well.

Once selected, tap on

'Perform Erase'

and let it complete the process from 1% to 100%. You have to be patient, as processing time might take a while to complete.

The object will be erased, and you will see a much clearer picture at the end.
This method is totally easy to follow, but regarding the perspective of quality and end result, Nothing can beat the photoshop version of clarity.
If you are not satisfied with the results of Photo Eraser, You can also try downloading and using Snapseed, Inpaint, and Photoleap editor for better results. The process for removing is quite similar to these, so you will not be able to get any problems.
Method #2: Remove A Person From A Photo Using Adobe Photoshop
If you have photoshop downloaded to your system, what you need to do is follow these crucial steps to get to the desired results;
Start Photoshop and open the image file from which you need to edit or remove the person/object. Once opened, you will be able to see the image in front of the main editing screen.

Now enable the

'Object Selection'

tool and make sure to activate or check the box that says;

'Object Finder'

.

Once everything is selected and ready, hover over the person or object that you want to remove and click to select them. This will automatically create a lining around the object/person so that you can see the particular place about to be removed.

Next, go into the edit menu on the top bar and select '

Content-Aware Fill

'. A pop-up dialog box will open up with an automatically adjusted default setting. If the setting is a bit out of order, consider using an arrow scale to adjust; however, If everything is fine on default, output the result to a new layer and click on

OK

.

Disable the selection using CTRL D (Windows) or Command D (Mac), and you are done. If you think there is still some availability of sharp areas that look odd, select the blur tool to make things secure.
As you can see and read, this method is pretty easy and can be used quite often to remove object from photo or to remove person from photo. Adobe Photoshop has made it pretty easy for beginners to use the Object Selection and Object Finder options.
Conclusion
After reading this article throughout the end, I expect that you are now properly educated on how to remove a person from a photo. These methods are very easy to use and follow, also based on user requirements. If you are looking to edit the picture on your mobile device, try opting for method #2. However, method #1 is the absolute one and can be used for professional-level editing.
FAQ's
Q1: Is Snapseed a free tool to remove objects from photos?
Ans: Yes, Snapseed is one of the best and most emerging applications unknown to many editors online. You can download the application to your mobile device and try clearing out some crowded images yourself.
Q2: How can I delete someone from a picture on iPhone?
Ans: You can download Photoleap or Inpaint from the Appstore on your IOS device and remove person from photo or remove object as well.
Q3: What other tools can I use to remove a person from photos?
When it comes to removing a person from photos, some of the best AI inpainting tools include Adobe Photoshop with its content-aware fill feature, AI-powered tools like DeepAI's AI Inpainting, and Remove.bg which specializes in removing backgrounds from images.
Also read Top 10 Free Apps to Remove Unwanted Objects From Photo.