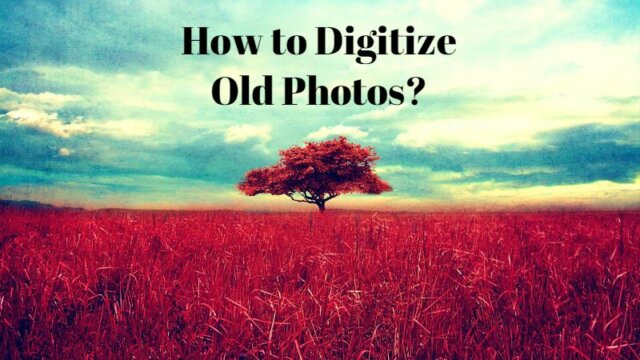 A really sustainable and excellent alternative to traditional photos is to digitize photos. Not to mention that you can digitize photos online for absolutely free with just a few simple steps. Many AI based applications such as VanceAI Photo Restorer offer such features and provide great results. Another advantage of an AI based tool like Photo Restorer is that it can repair damaged images as well. Other than that, we will also show you other apps that can digitize old photos. With digitized photos, you can not only forget about them ever fading away but you can also edit them and share them anywhere you want.
Must-know Tips Before You Digitize Photos
If you want to know how to digitize old photos, there are a few tips that you can use before processing them through an application or a scanner.
It is crucial that you first organize your collection of photos before processing them. One of the most common and also best ways that you can do it is by labelling your photos through dates. You can rearrange your entire collection from the date they were taken in. Other options would be events, priorities, or even photo quality. Apart from that, you'd also want to get rid of all the duplicates that may exist within your collection. Getting rid of them saves time for later as well as effort. Additionally, it's not important or given that you'd want to digitize all of your photos. Before digitizing the photos, you may give it a try of the  Online Photo Restoration to remove the imperfections from the photos. Therefore, going through the pictures once can be beneficial since you can prioritize the images and digitize only the ones needed.
How to digitize photos with Google PhotoScan
Overview of Google PhotoScan
Price: PhotoScan by Google is a mobile application that is fully free to use and it doesn't include any ads or in-app purchases.
With this application, you don't have to worry about how to digitize photos since it is so easy to use. Once you install the application, you merely need to grant camera permissions to it and that's it. The UI design is simple and direct, as it shows the camera frame in front. You only need to have the picture in the frame and the app will detect it.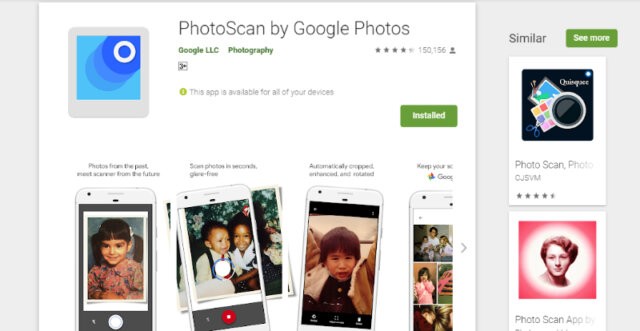 How to use:
1. Launch the app and grant permissions.
2. Keep the picture in the frame and scan it.
3. Save the image.
AN alternative: Photomyne
Price: It is a free to use application for digitizing photos though it still contains in-app purchases for additional features and advantages.
With this mobile application, you can do a lot more than just scan and digitize photos. Photomyne offers a bunch of cool features such as AI based photo adjustment, which detects borders of your pictures and crops the image accordingly. Other than that, you can also edit your images by using the app's editing features, allowing you to add dates and other specific info about the image.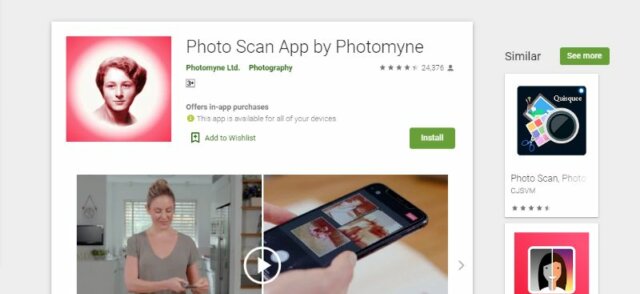 How to use:
1. Launch the application and grant permissions.
2. Scan the image by using the camera frame.
3. Save the image.
How to digitize your old print photos with scanners?
You can also use your scanners to digitize old photos. The process is really simple, for all you have to do is get your collection of photos and make the settings in the scanner as per your preferences. After that, simply insert the pictures one by one. A benefit of scanners is that they are cheaper and work at a decent pace. If you have extra needs to restore old photos, the AI old photo restoration service provided by VanceAI can give you some help.
How to digitize photos with your smartphone?
Digitizing photos on smartphones has never been easier. Similar to the steps given above for the applications, you can simply start an application and use it to scan any picture you want. Most apps are automatic, meaning you will get your results within seconds and you merely need to wait. If you want to repair a damaged photo, you can use VanceAI Photo Restorer.
Conclusion
With the age of information, it is simply amazing that we can convert physical photos into digital ones and reap the benefits. Sharing physical copies of any object, let alone pictures, is costly and time-consuming. However, with digital photos, you can share them anytime with anyone for absolutely free and at the highest speed possible. Digitize family photos and share them right now. The online tools today can bring you a surprise if you use the AI Photo Restorer to fix the damaged photos. It will be a great time-saver for you. Also read: Best AI Online Old Photo Restoration Tools Review from TopTen.AI