Cropping a photograph removes sections of an image that you no longer need or require. Most applications provide a photo or gallery feature with cropping capabilities, including a rudimentary photo editor. However, it is relatively simple, and many people may not know how to crop a photo in Photoshop or its alternatives precisely. Fortunately, there are specific programs for cutting an image in detail, which we will go through on this list. However, it is essential to note that cropping is not the same as shrinking a picture. A crop tool allows you to remove whole sections of an image.
When you shoot the perfect photo from the ideal viewpoint, all you have to look at is crop, sharpness, and hope for hundreds of likes. Other times, though, it's doomed to be a complete disaster of white balance, focus, cropping, exposure, etc.
If you aren't a professional photographer, purchasing Photoshop may not be worth your money, but that doesn't mean you can't be creative with your picture editing. Free web-based picture editors are a terrific way to get the job done.
Features of Croping  An Image in Photoshop Alternatives
There are other online photo editors available, but we picked our top few because they are:
1.Similar to Photoshop: We looked for online image editing tools identical to full-featured desktop picture editors.
2. Feature-rich: We skipped on one-trick ponies that merely add filters or have a restricted editing range. White balance, color tweaks, sharpening, cropping and straightening, healing, text overlay, and special effects are all available in all of our options.
3. Simple to use: Even though some of these apps are more complicated than others, they are all user-friendly.
4. Suitable for social networking: Let's face it: most of our images wind up on social media, so we wanted to make sure our selections were easy to share.
5. Free: All of our options include at least a free basic version. For a price, most of them also provide upgrades with additional capabilities.
How to Crop an Image in Photoshop?
Photoshop has been the most popular image editing program for a long time. Photoshop allows you to modify a picture in any manner you choose. Needless to add, the program also allows users to crop a photo.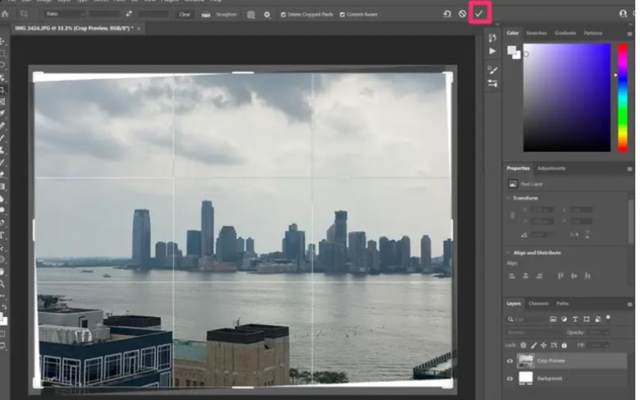 To correct a crooked picture, use the crop tool. In reality, straightening photographs is a regular aspect of the workflow that a photographer performs alongside cropping.
Step 1. In the Tools Palette on the left side of the screen, select the Crop tool.
Step 2. Use the crop handles on the frame's corners and sides to resize and move the crop frame.
Step 3. To straighten the image, drag the cursor outside the picture canvas and into the backdrop of the Photoshop work area. The pointer should shift to a curve with arrows at both ends.
Step 4. Drag the pointer with your mouse. You should be able to watch the image rotate. In small increments, spin the picture until it is straightened. Turning on a grid overlay (see the part earlier in the article on grid overlays) can help you align the gridlines with the horizon or another level line in the shot.
Step 5. Once you're happy with the crop, click the checkmark in the Tool Options box to apply it to your photo.
How to Crop out an Image in Photoshop with Vance AI Image Cropper
Vance's partially free application offers all an image crop tool needs and more. Impediment and drop a picture into the editor to begin editing. You may also select a preset, which caters to specific social networking website resolutions. Facebook Covers, Instagram Stories, Twitter Header Photos, and more are among the presets available.
You may also scale your image by simply entering the required dimensions. If you're concerned about the image's quality being lowered after resizing, you may use an upscale appearance to improve its resolution before cropping it. This program is speedy, simple to use, and contains all necessary functions.
Step1: To begin, click the link above to open the tool. To upload a picture, select the Upload Image option.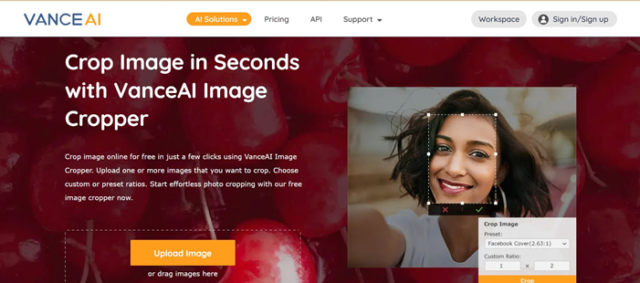 Step 2: Crop your image using a preset, custom proportions, or the drag tool.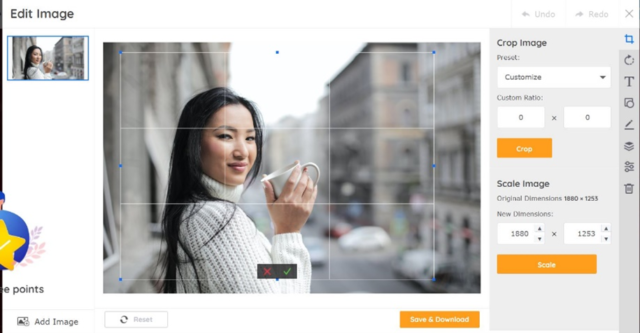 Step 3: You may also utilize the Undo function if something goes wrong.
Step 4: Finally, press the Save & Download button to save your image to your smartphone.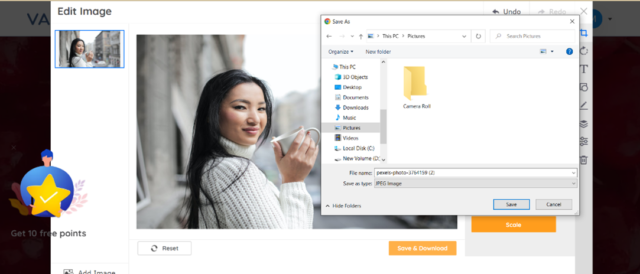 How to Crop a Picture in Photoshop with the crop tool Photos Application?
The Photos App
Android, like Apple, has its photographs and gallery app available on all Android smartphones. This is often where people keep all of their pictures. Furthermore, the processes for cropping an image are comparable.
Open the Photographs app on your phone and choose the image.
Tap Edit and then the Crop icon. Make use of the crop box or choose an aspect ratio.
Save the image and look for it in the Gallery.
Wrap Up
Photoshop is the ideal companion for picture editing, cropping and transformation. You can produce images that appear exactly as you want them to, no matter where you are. Photoshop has an easy-to-use interface and basic sliders, filters, and presets to help you create photos that will astound and please.
But still, you can use many alternatives like VanceAI Image Cropper because it allows you to crop an image online for free in only a few clicks. Upload one or more photos to be trimmed. Choose between custom and preset ratios. Begin quickly cropping photos with their free image cropper right now.
1. What does it mean to crop a photo?
Cropping a picture involves removing unnecessary areas of the image. It is beneficial for a variety of reasons. For example, you can utilize what you need. Furthermore, you may accomplish it quickly and easily without background removers. It is simple to use, but it is also widely available. Consequently, the crop feature is available on practically every mobile device. Otherwise, you can make use of the tools on this list.
2. How can I recover the entire image after cropping it?
Finally, if you pruned your image with Cut out Cropped Pixels turned off, you can always restore the complete appearance by going to the Image menu and selecting Reveal All.
3. In Photoshop, how can I freely crop an image?
This is how it works. In Photoshop, pick the Crop Tool (C) and change the crop preset to "Ratio" or "W x H x Resolution" in the upper framework bar to free crop a picture. Then, hit "clear" to remove any limits that have been imposed on your produce preset. You may now easily crop your image without being constrained by a particular dimension.
More useful photo editing tools also read: Best 10 Tools Repairing Your Family Portrait Online