Bard AI, developed by Google, is a pretty strong chatbot application that is capable of delivering pretty much any answer that you want. Learn how it works here.
Bard AI by Google is a chatbox application made by advanced language model AI technology. In many ways, it is similar to other similar technologies such as ChatGPT and Microsoft Bing. With that said, it can be determined that Bard AI can help out a wide range of users, ranging from students to content creators.
This AI chat application can provide answers to pretty much any questions asked by the user. Just like any other technology, it is not flawless. Nonetheless, it can prove to be quite useful for research and learning new things in general.
Overview of Google Bard AI
Price: Google Bard is free to use. You will simply need your Google account to access it.
Platform: It can be used online.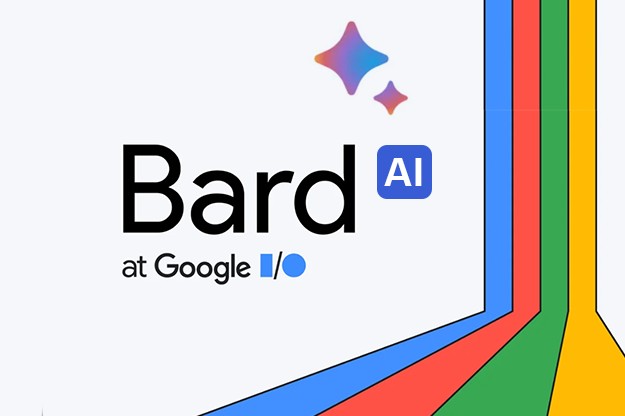 Image credit by Google
The word "Bard" refers to a storyteller or poet and it is a word that has been in use for many years. The Google Bard AI can considered to be a conversational AI technology that works to resolve users' queries. It can also help with highly complicated tasks, such as coming up with stories or story ideas, programming assistance, and much more. Also, the Google Bard API is also available. It is developed by Google AI, which is a special division of Google that conducts research on AI.
Google Bard, as you can already see, goes beyond simple conversations. Here are some of its features you should know about:
Creative Texts: The Google chat AI can quickly come up with creative copies or texts, be it for letters, website copy, advertisements, poems, stories, etc. Therefore, anyone from an author to a student can get some fresh ideas immediately by using Bard AI. It is recommended to use tools like Bard AI to get ideas and execute the writing on your own.
Google Data Access: It is no secret that the Google search engine is considered to be the best in the world. The Google Bard AI leverages that by providing answers and sources taken from all the data that Google already has. This can be vital for users who want to conduct viable research and avoid unreliable information. Double-checking is still needed, but Bard AI does make it easier.
Translation: If you are someone who needs to communicate with people around the world, this AI chat app can help you translate words into other languages. Additionally, given its advanced conversational capabilities, you can also get context behind certain words that you normally wouldn't be able to find online so easily.
Pros
Bard AI is free to use.
It provides detailed answers with images.
Consistently improving.
Cons
It is not fool-proof.
It can be slow at times.
Outstanding Features
Access to up-to-date information
Bard AI can access and process information from the real world through Google Search. This means that Bard can provide you with up-to-date information on a variety of topics.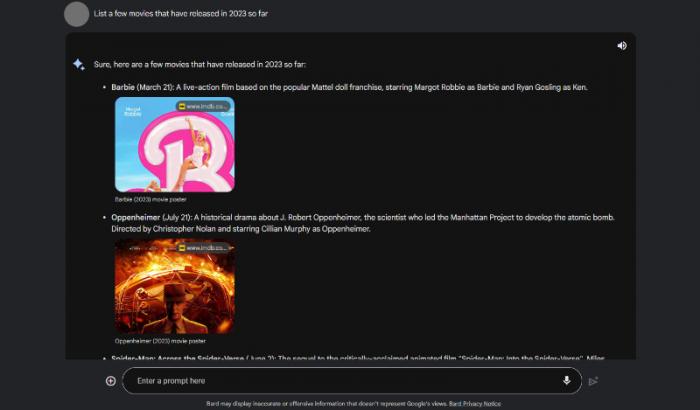 For example, when asked about the movies released this year in 2023, Bard AI shows that it is capable of pulling information from the search engine and providing a simple yet effective answer. In all cases, it is best to verify everything yourself. In this case, while the answer was simple and quick, the AI chat mentions that the film "Barbie" was released on March 21, when in fact, it was released on July 21. Regardless, its ability to provide the latest information makes it a strong ChatGPT alternative.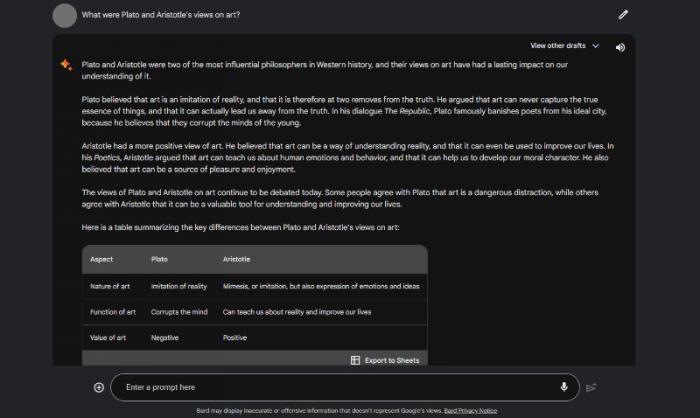 Bard AI can also understand and respond to complex questions that require multiple steps to answer. For instance, you can ask Bard AI a question about philosophy or about such individuals. Bard can access Google Search to learn about different philosophical perspectives on the topic that you are looking for and then synthesize that information to provide you with an answer.
Google Bard AI can also be used to find information that is not easily accessible through traditional search engines. For example, if you are researching a topic that is not well-known, Bard can access Google Search to find academic papers, news articles, and other sources of information that are not easily found through other means.
Multi-format, multi-language
Bard AI can translate text from one language to another. It can translate over 100 languages, including English, Chinese, Hindi, Spanish, French, etc. Bard AI uses a neural machine translation model to translate text, which means that it learns to translate text by analyzing large amounts of parallel text data. This allows Bard AI to produce more accurate and natural-sounding translations than traditional machine translation systems.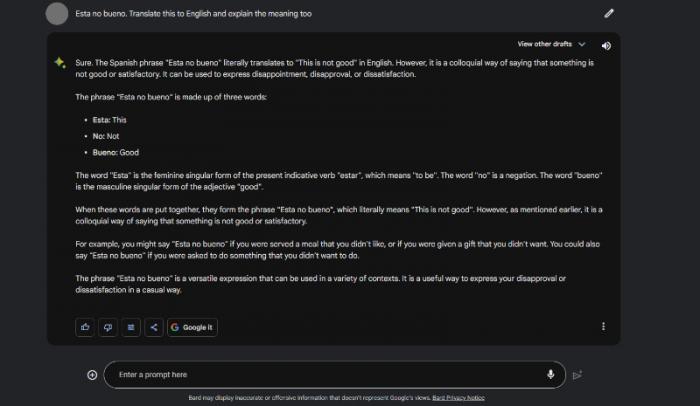 Bard AI can understand and respond to text in multiple languages. This means that you can use Bard AI in your own language, regardless of the language of the text you are interacting with. For example, if you are a Spanish speaker, you can use Bard AI to translate English text into Spanish.
Why Editor Picks
Google is known to deliver highly innovative and powerful applications and Bard AI is no exception. Even in its demo version, it shows incredible potential and value. It will definitely improve further as time goes by, acting as a character AI and more. By delivering fairly accurate answers with detail and context, Google Bard can be a valuable asset for research. As a student, you can easily use this app to get a solid foundation on a subject. It is also free to use and for the Bard AI login, you simply need to login to your Google account.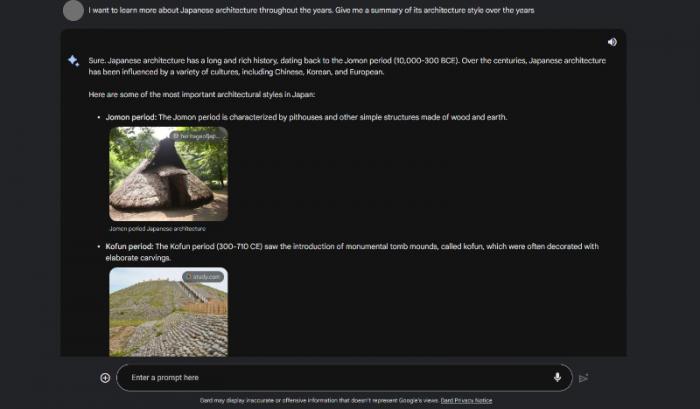 For example, we took the subject of "Japanese architecture" and asked the AI chat tool to summarize the Japanese architecture style throughout the years. Not only does Bard AI come up with the information, it presents everything in a systematic way. Another massive benefit is that it adds images and links for users' reference. Similarly, if you are a writer or a content creator looking for ideas, you can simply ask Bard a question and it will provide you with enough starting points from which you can branch off to different areas.
Bard AI vs New Bing vs ChatGPT
Chatbots

Price

Information

collection

Main Features

Advantages

 

Disadvantages

Google Bard

- Answers with images and links.

- Provides the latest info.

- High quality UI.

- Answers can be too short

sometimes.

New Bing

Free

Search engine,

conversation, and more.

 

- Simple to use.

- Chat customization.

- It can give inaccurate answers.

- Takes time to process.

- The UI can be better.

ChatGPT

Up to September

2021

 

Chat, data analysis,

coding, etc.

- More fleshed out responses.

- Excellent UI design.

- Customization.

- Unstable servers at times.

- No latest data.
Editor's Suggestions
Both Bard AI and ChatGPT are excellent apps to consider if you want an AI content generator and more. After using the three AI chat tools, we've noticed that Bard AI and ChatGPT lead the way when it comes to finding out information, providing answers with context, discussing complex topics, coding, etc. The New Bing AI chat app has potential but needs to catch up to the other two apps.
As of now, it is best to use Bard AI and ChatGPT. Bard AI has a clear advantage over ChatGPT(Free version) when we consider that Bard AI has all the latest data and info. However, ChatGPT generally gives out more detailed and better answers, even for complicated questions.
Based on what Google has released, Google will be embedding Bard AI directly into search results in the future, which will likely change what we've been using for years, but we think it's a good upgrade.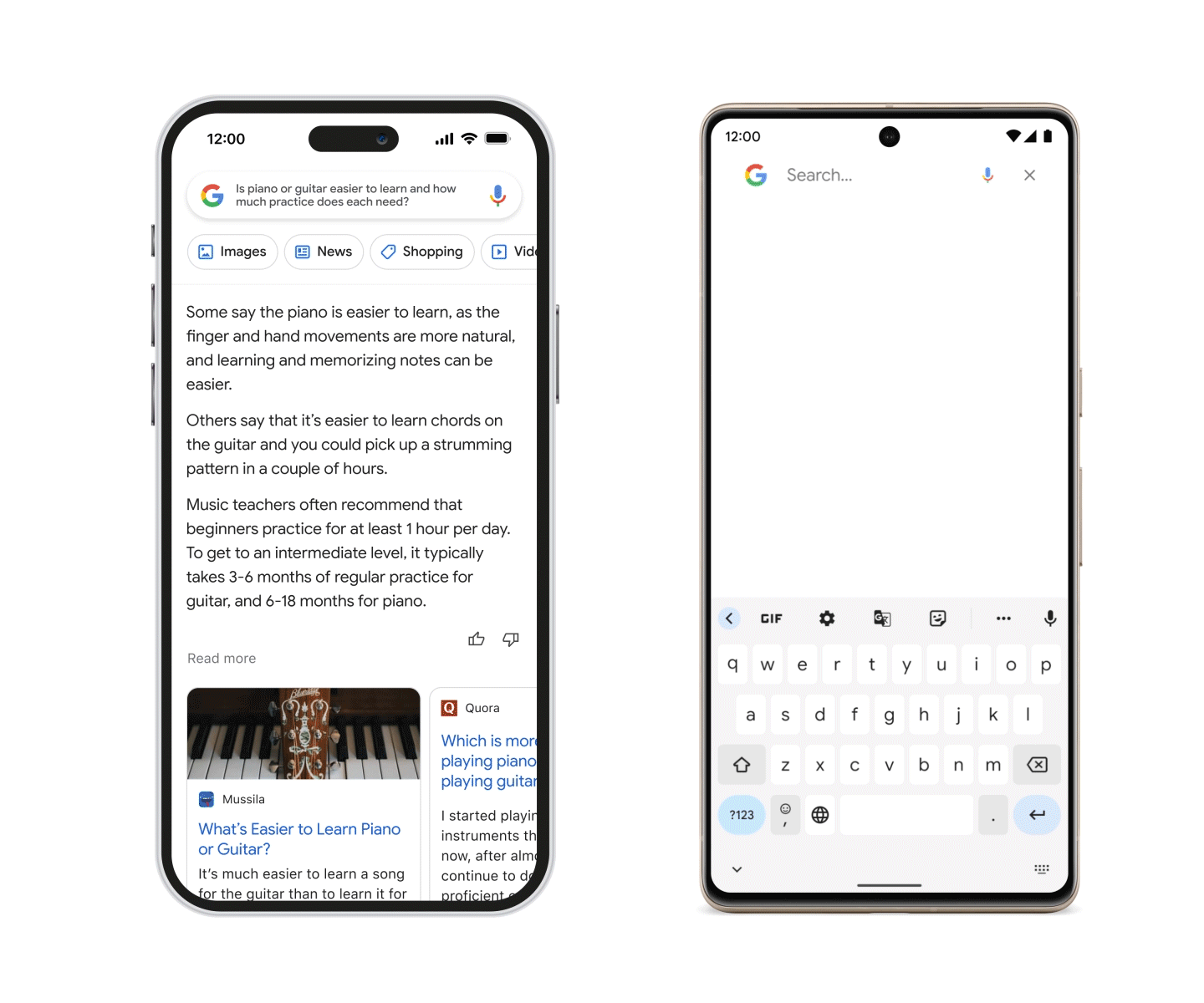 Image credit by
Google
Conclusion
You must have already heard this a million times, but AI is really going to change the way we work and interact with computers. Google Bard is one of the prime examples of AI acting as an indispensable assistant to a wide range of users for work, research, and more.
There is no doubt that Bard AI is a powerful application that is only set to become better with upgrades. Compared to other chatbots, an amazing feature of Bard AI is that it can incorporate visuals and links to its answers, enabling users to dig deeper into subjects they're curious about. While it does not really replace ChatGPT, it surely stands on its own. For greater accessibility, they could offer a Google Bard API as well.
The future belongs to all kinds of AI tools. Check out our Tools Directory which lists down some of the best AI tools you can benefit from.