This article reviews the top ten face apps that can be used to enhance and manipulate facial features. These apps use AI algorithms and machine learning techniques to apply filters, effects, and other modifications to selfies or portrait photos, creating fun and creative results. The review covers features like ease of use, accuracy, output quality, and compatibility with different devices and software.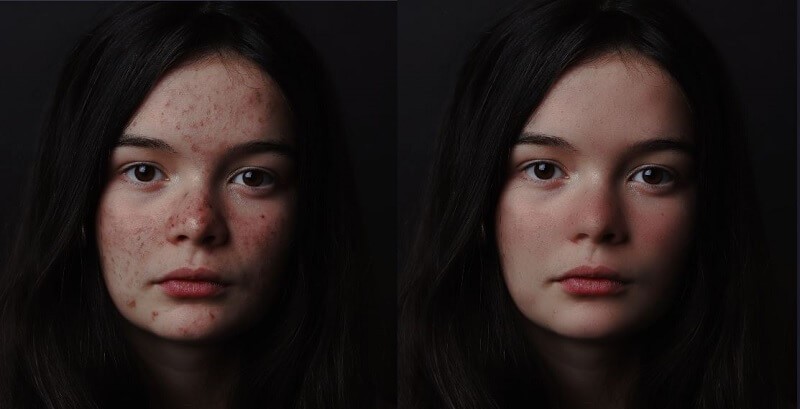 It's pretty common these days to modify our faces using filters that come incorporated into the apps we use. However, these filters are often not enough for our needs, which is why some companies came up with specialized faceapps. If you've never used a faceapp before and aren't sure how to get started you're in luck because in this article we're going to cover some of the best ones currently available.
10 Best Face APP Online
| Product Name | Processing Speed | Output Quality | Free/Paid | AI-based | Suitable for |
| --- | --- | --- | --- | --- | --- |
| VanceAI | ★★★★☆ | ★★★★☆ | Freemium | ✅ | Casual users or amateur photographers |
| FaceApp | ★★★☆☆ | ★★★☆☆ | Freemium | ✅ | Mobile photographers or social media users |
| Voila AI Artist | ★★★★☆ | ★★★★☆ | Freemium | ✅ | Digital artists or hobbyists |
| Pizap | ★★★☆☆ | ★★★☆☆ | Freemium | ❌ | Casual users or amateur photographers |
| Reflect | ★★★☆☆ | ★★★★☆ | Paid | ✅ | Professional photographers or designers |
| Fotor Reshape | ★★★☆☆ | ★★★☆☆ | Freemium | ✅ | Casual users or amateur photographers |
1. VanceAI
VanceAI, online photo editing and enhancement tools,  is one of the most prominent players on the market right now regarding image enhancer tools powered by artificial intelligence. The company recently launched a Workflow mode and a VanceAI Portrait Retoucher that lets users save time by queuing up various processes to dash. For instance, the AI Portrait Enhancement Workflow denoises enlarge images with a simple button click. You can also create your Workflow by using many other options, such as the photo retoucher, image sharpener, background remover, photo restorer, and so much more.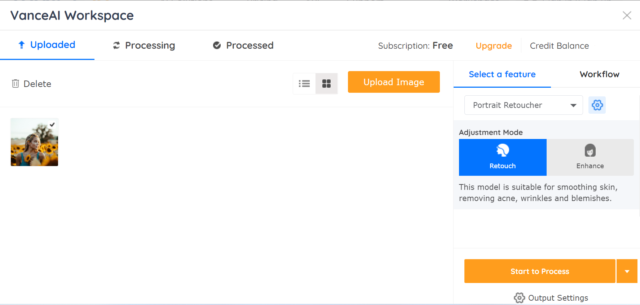 Pros:
Very easy to use

Multiple AI tools are available

Specific workflow design supported

Speeds things up by letting you create workflows

It also serves as an 

AI photo enhancer
Cons:
Limited free trial
May require a bit of experimentation
Few options for manual adjustment
2. FaceApp
FaceApp is a selfie editor that uses AI to automatically enhance your photos. Considered by many to be the best face photo editing app, FaceApp has received numerous awards over the years and has been downloaded by over 500 million users and counting. The app can be used to retouch your photos, boost your attractiveness and change your hairstyle or facial hair, among other things. You can also play around with an AI filter that creates younger or older versions of yourself. FaceApp is available on both Google Play and the Apple App Store.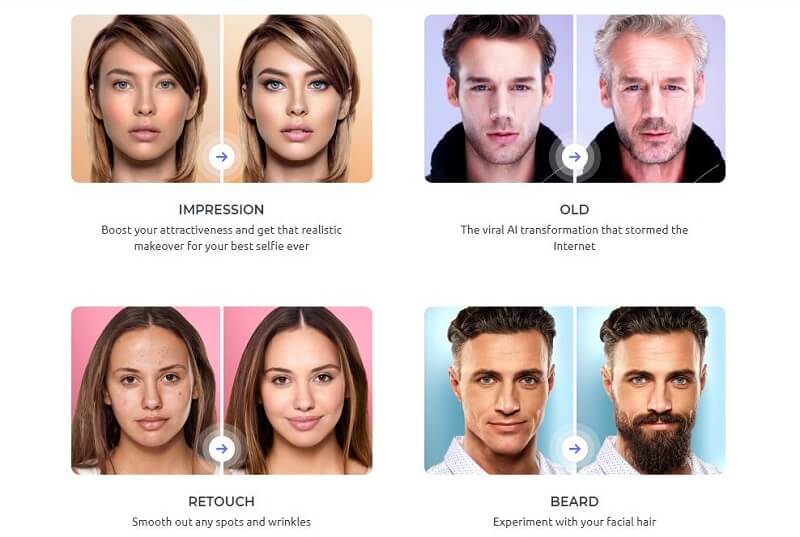 Pros:
AI-powered face filters
Experiment with hair styles
Create younger or older versions of yourself
Cons:
Contains Ads
In-App Purchases
Occasional performance problems
Also Know About AI Face Tools: How Attractive am I AI?
3. Voila AI Artist
Voila AI Artist may just be the best face editor app for Android if you're looking to transform yourself into a cartoon character. The app essentially turns your selfies into works of art that can resemble a 15th century painting, a modern caricature, or an animated character. Or, even better, you can turn portraits into cartoon baby versions of themselves. This app is all about having fun and offers a few other features designed specifically for that purpose. Voila AI Artist is available on both Google Play and the Apple App Store.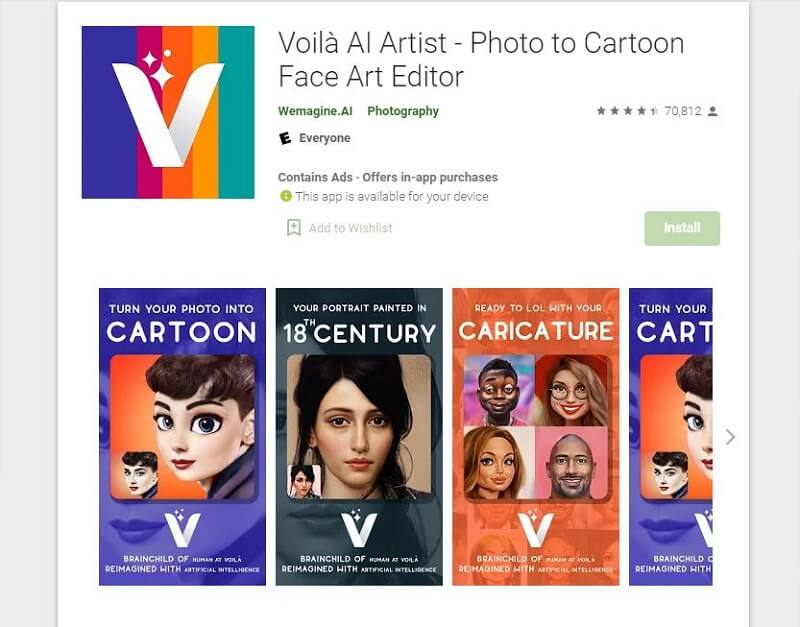 Pros:
Turn yourself into a cartoon
Turn your selfie into a Renaissance painting
Caricature mode can lead to hilarious results
Cons:
Ads
In-app Purchases
Processing times could be faster
4. Pizap
Despite what the name might suggest, this faceapp isn't actually a mobile app but rather a browser one. Pizap isn't as specialized for face editing as some of the other apps on this list, but it does come with a touch up mode and some very powerful editing tools. The site can also be used to create collages, banners, covers, posters or even memes. There's truly a little something for everyone here, though it is worth pointing out that only some of the features are available for free.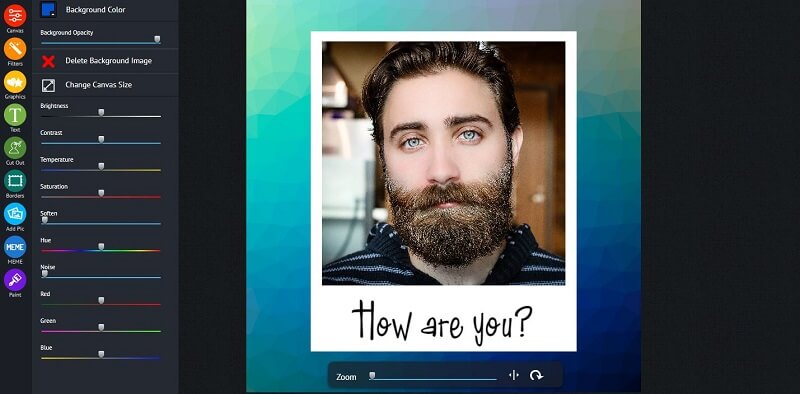 Pros:
Good variety of editing tools
Great for creating banners
Nice selection of templates
Cons:
Could use more filters
A bit difficult to work with
Some features locked behind paywall
5. Reflect
Face swapping technology has come a long way these past few years. Doing a believable face swap used to require quite a bit of time and effort back in the day but that's no longer the case thanks to faceapps like Reflect. This simple to use online service allows you to put your face onto anyone's body, including celebrities, video game characters, cartoons, and even pieces of art like paintings or statues. Reflect doesn't have a mobile app at the moment but you can easily use it from any browser.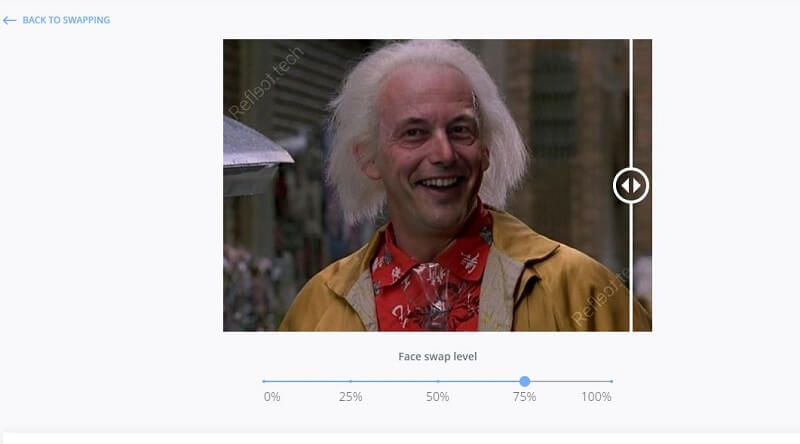 Pros:
Easy to use
Works with any browser
Fast processing
Cons:
Could use a few more features
Can't manually select the targeted face
Swaps created for free come with watermarks
6. Fotor Reshape
Fotor is a well-known image editing website commonly used to create things like collages, banners or covers. The company has been expanding in some interesting areas in recent years and now also offers a few other services, including a reshaping tool. The faceapp is pretty intuitive but it can take a bit of practice until you can achieve the desired results. Despite that, Fotor's online tool still offers a much simpler alternative to image reshaping than Photoshop or other advanced software.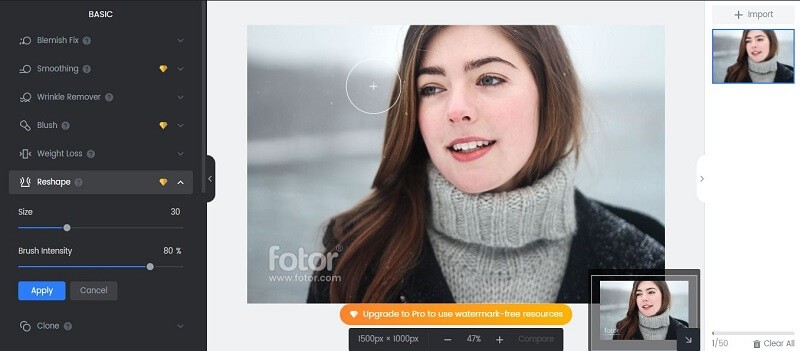 Pros:
Lots of useful tools and features
Includes beauty filters
Great selection of frames
Cons:
Can be a bit complicated for some users
Images created for free come with watermarks
Significant number of features locked behind paywall
7. PhotoWorks
If you're looking for a face editor app that can do most of the hard work for you, we recommend checking PhotoWorks. The software comes with an intelligence face retouching system that can improve portrait photos in a number of ways with just a few clicks. We're talking red eye removal, brightening smiles, smoothing out skin, and much more. Other interesting features include the ability to restore old and faded photos, enhance image quality, and erase people from photos. PhotoWorks is a professional software suite that can be used for free with no time limits as long as you don't mind certain limitations.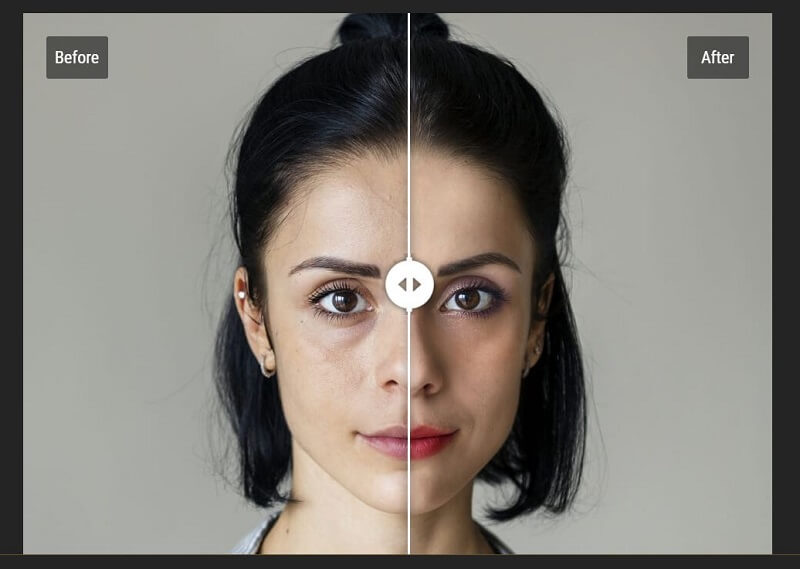 Pros:
Easily enhance photos with just one click
Restore old or faded photos
Erase people from any photo
Cons:
Only available as downloadable software
Can be a bit complicated for some users
Some features only available with premium plan
8. BeFunky
BeFunky is another fantastic faceapp that works almost like magic. There's a very impressive one-click AI portrait enhancer that takes care of a lot of issues automatically. If the photo still doesn't look quite right, you can then jump in and use the myriad of available tools to manually adjust any remaining defects. You can also add special effects to your portraits or transform them into something that resembles oil paintings or sketch drawings if you're feeling artistic. The number of tools available here is quite impressive.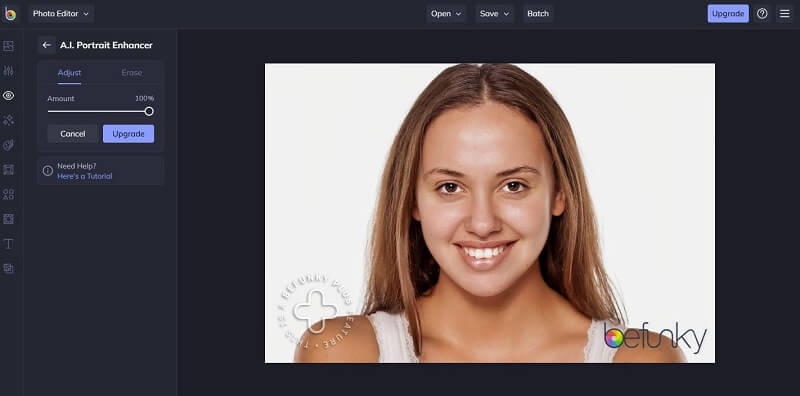 Pros:
Retouch your selfies with just one click
Plethora of tools and features
Batch processing
Cons:
Can be a bit complicated for new users
Many features are locked behind paywall
Images created for free come with watermarks
9. PicMonkey Retouching Tools
PicMonkey offers everything from design tools and logo creators to face retouching tools. There's no automatic one size fits all solution here but having to manually adjust things isn't necessarily a bad thing. Especially when you have plenty of tools at your disposal. PicMonkey is a bit light in terms of frames but more than makes up for that with its ample supply of textures and effects. While you can use the auto adjust mode to try and enhance your images, in this case we recommend experimenting with the manual tools because you will likely see better results.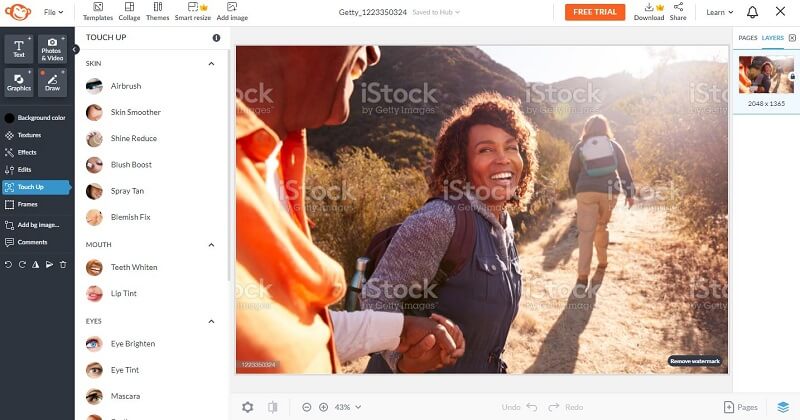 Pros:
Impressive selection of textures and effects
Enhance your photos with neat graphics
Remove backgrounds with ease
Cons:
Can't download edited images with free plan
Can't use certain features with free plan
Occasional performance issues
Also read: Top 10 Virtual Try-On Applications Review.
10. Peachy – Face & Body Editor
We're going back to mobile faceapps where we have Peachy, a great face and body editor that's currently growing in popularity. The app is primarily designed for selfies and comes with some pretty interesting filters. There's also a body sculpting tool that can make you look super ripped in a realistic way. In addition, you can find standard face retouching options for skin smoothing, teeth whitening, blemish fixing, wrinkle removal, and more. Peachy is available for free on both Google Play and the Apple App Store.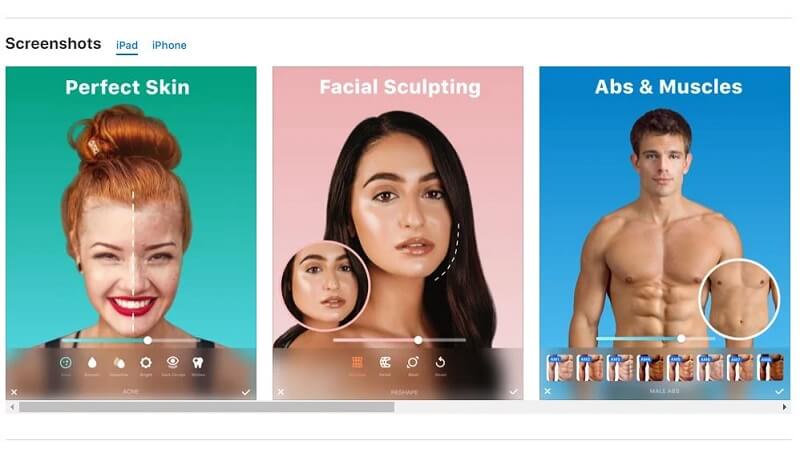 Pros:
Movie-inspired filters
Body sculpting tool
Good face retouching options
Cons:
Too many ads
Bugs and glitches
Occasional performance issues
FAQs
What is Faceapp?
Faceapp is an umbrella term that refers to any application designed to help users edit selfies or portrait images. This process can either occur automatically thanks to AI or can be done manually by using various tools. It's worth noting that FaceApp is both the name of a specific application and a general term used for portrait and selfie editors.
Is Faceapp Safe?
That answer may vary depending on which application you are using. Most faceapps are indeed safe but there are some that have been known to collect user data for nefarious purposes. The best way to avoid a situation like that is to do some research before you download and install an app. Same goes for any piece of software for that matter.
How to Use Faceapp?
The process is fairly straightforward with most faceapps. You simply upload an image and start editing it using the provided tools. Some apps offer templates or AI-powered tools that do most of the work for you. However, there are instances where you'll need to take care of most of the editing all by yourself.
How Accurate is Faceapp?
The accuracy of a faceapp often depends on the image you want to edit, though the quality of the app itself also plays a big role. If you're using manual editing tools, the accuracy largely depends on your own skills as an editor. As far as the automatic tools are concerned, you can expect to see good results if the app uses advanced artificial intelligence.
What is the Best Face Swap App?
There are so many face swapping apps to choose from that it's hard to say for sure. Reflect and Reface are the most popular ones at the moment but there are a few others you should consider such as Cupace, Face Swap Live and Mixbooth. Snapchat also has its own face swapping tool that seems to grow more and more accurate with every new update.
Final Thoughts
Faceapps have become so advanced that they're currently giving even advanced editing software like Photoshop a run for their money. The growing popularity of faceapps can also be attributed to the fact that they're so easy to use. Of course, being either partially or completely free also explains why so many people are using them these days.