Summary: This article reviews some of the best reverse image search tools to help you search the internet for similar images. It includes their features, ease of use, and accuracy. And also, the price, pros, and cons.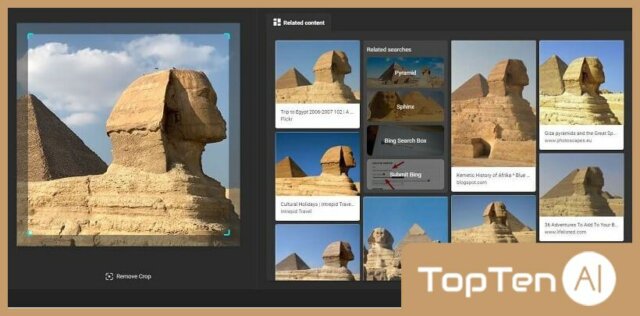 Image recognition technology utilizes algorithms and Computer Vision (learn more on WIki) techniques to identify objects, scenes, and text within images. One of its significant applications is reverse image searching, which has become increasingly valuable in various use cases. Users often face challenges in finding duplicates or different sizes of the same image across websites, discovering similar images, or locating more relevant photos.
This review aims to address these pain points by presenting a comprehensive review of the top 10 reverse image search engines and tools available today. Drawing from our extensive experience, we will objectively evaluate and analyze these solutions to help you make an informed decision when choosing the right tool for your needs.
Best 10 AI Reverse Image Search Tools (Updated July 2023)
| Tool Name | Searching Speed | Accuracy | User-Friendliness | AI Based | Free/Paid | Suitable for |
| --- | --- | --- | --- | --- | --- | --- |
| Google Reverse Image Search | ★★★★☆ | ★★★★★ | ★★★★☆ | ✅ | Free | Casual users or professionals needing simple searches |
| TinEye Reverse Image Search | ★★★☆☆ | ★★★★☆ | ★★★☆☆ | ❌ | Freemium | Photographers or creative professionals |
| Pinterest Lens | ★★★★☆ | ★★★★☆ | ★★★★★ | ✅ | Free | Users seeking visual inspiration or shopping-related searches |
| Pimeyes | ★★★☆☆ | ★★★★☆ | ★★★☆☆ | ✅ | Freemium | Individuals concerned with privacy and image security |
| Yandex Reverse Image Search | ★★★☆☆ | ★★★☆☆ | ★★★☆☆ | ❌ | Free | Users seeking results from Russian-focused web content |
| CamFind | ★★★☆☆ | ★★★☆☆ | ★★★★☆ | ✅ | Free | Users interested in object recognition and product searches |
| Bing Reverse Image Search | ★★★★☆ | ★★★★☆ | ★★★★☆ | ✅ | Free | Users preferring Microsoft-powered search functionality |
| Yahoo Image Search | ★★★☆☆ | ★★★☆☆ | ★★★★☆ | ✅ | Free | Users looking for alternative search engine options |
| Ximilar | ★★★★☆ | ★★★★☆ | ★★★★☆ | ✅ | Paid | Professionals and businesses requiring advanced image search |
| Search Engine Reports | ★★★☆☆ | ★★★☆☆ | ★★★☆☆ | ❌ | Free | General users in need of basic reverse image search |
Note: As professional and objective reviewers, we have personally tested each of the top 10 reverse image search tools on our list. Our ratings are based on a comprehensive evaluation, considering factors such as searching speed, accuracy, user-friendliness, AI capabilities, and suitability for different user needs.
1. Google Reverse Image Search
Price: Free                     Rating:9/10
Notable features: Easy to use, integrated with Google, advanced features like safe search and filters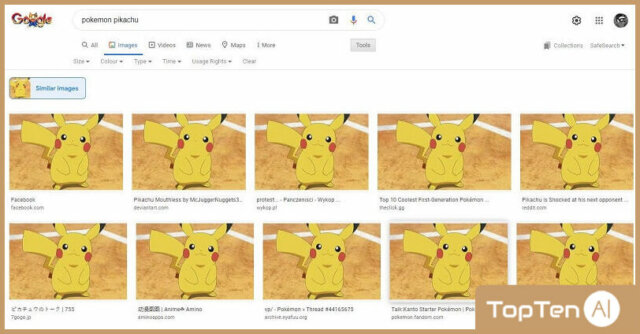 Google Reverse Image Search is a highly popular and user-friendly search engine, perfect for individuals and professionals alike. Its integration with the main Google search platform makes it extremely accessible.
Some of the key features include drag-and-drop image search, safe search, filters, and the ability to create collections. It even supports Google Lens, allowing for seamless image recognition and search.
However, the main drawback of Google Reverse Image Search is that it doesn't show results from other search engines and lacks the ability to filter by file format. Furthermore, search results tend to include too many .webp images.
Pros

Cons

Easy to use

Available in many languages

Supports voice searching

Doesn't show results from other search engines

Can't filter by file format

Too many .webp images
Price: Free. Additional tools start at $200/mo          Rating:8/10
Notable features: Advanced search engine, machine learning, pattern recognition, neural networks
TinEye is an advanced reverse image search engine, ideal for site owners looking to avoid using duplicate images from competitors. It employs cutting-edge technologies, such as machine learning and neural networks.
Key features include image verification, label matching, color analysis, and the availability of an extension for popular browsers. TinEye excels at locating past usage of specific images on websites.
The downsides of TinEye are its tendency to show results from larger websites only, and its less-than-optimal performance when searching for similar images. Additionally, the advanced search tools come with a hefty price tag.
Pros

Cons

Easy to use
Great performance
Great filtering options

Tends to only show results from big websites
Not great for showing similar images
Additional search tools are very expensive
Price: Free         Rating:8/10
Notable features: Machine learning-based image recognition, object recognition, product recommendations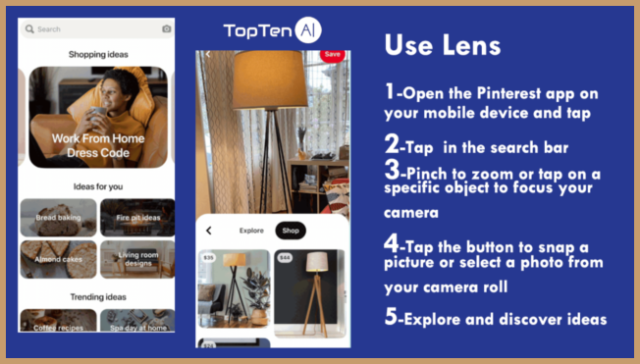 Pinterest Lens  is an innovative image search tool that analyzes user-uploaded images and provides related results in the form of pins. It's particularly suitable for those seeking shopping inspiration or wanting to explore similar visual content.
Leveraging machine learning for image recognition, Pinterest Lens can accurately identify patterns and categorize images. Its standout feature is the ability to recognize objects within images and offer matching product recommendations.
The limitations of Pinterest Lens include support for only a few languages and occasional struggles to recognize more complex images.
Pros

Cons

 Accurate image recognition software
Provide shopping information
Easy to use

Only support a few languages
Fail to recognize the complicated images
4. Pimeyes
Price: Free. Premium plans start at $29.99/mo          Rating:7/10
Notable features: Fast facial recognition, good filtering options, focused on faces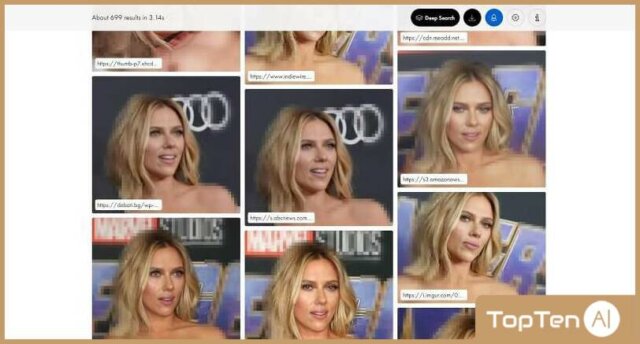 Pimeyes is a specialized reverse image search engine designed for facial recognition, making it ideal for users seeking to find images of specific individuals. It scans the web for different images of the same person.
One unique aspect of Pimeyes is that it blurs the background, focusing solely on faces. The engine offers a free reverse image search, but additional features like downloading images require a paid plan.
The primary shortcomings of Pimeyes include its limited usability without upgrading and the fact that it only works with faces. Additionally, the blurry backgrounds can be a source of annoyance for some users.
Pros

Cons

Very fast

 Great facial recognition
Good filtering options

Very limited usability without upgrading
Only works with faces
Blurry backgrounds can be annoying
Price: Free          Rating:8/10
Notable features: Advanced filtering options, good for finding wallpapers, strong performance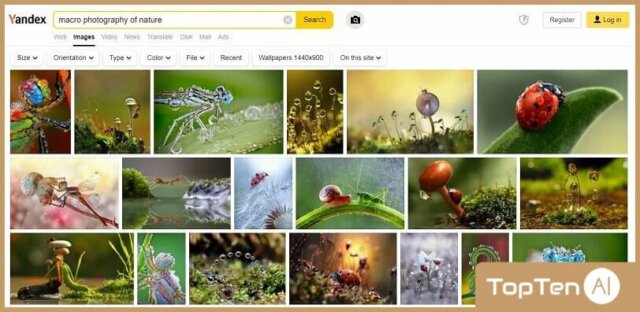 Yandex  a prominent search engine provider, offers a reverse image search function that appeals to users seeking visually similar images and wallpapers. The search engine is comparable to Google in many ways.
Yandex's key features include an array of filtering options and automatic detection of screen resolution for finding perfectly sized wallpapers. The search engine is versatile, allowing keyword searches and image uploads.
The drawbacks of Yandex include its primary focus on Russian language results and its constant prompts for user sign-ups. Additionally, users may encounter annoying ads while using the search engine.
Pros

Cons

Great filtering options
Good for finding wallpapers
Good performance

Shows results primarily in Russian
Constantly asks you to sign up
Annoying ads
Price:  Free         Rating:7/10
Notable features: Feature-rich, easy to use, accurate image recognition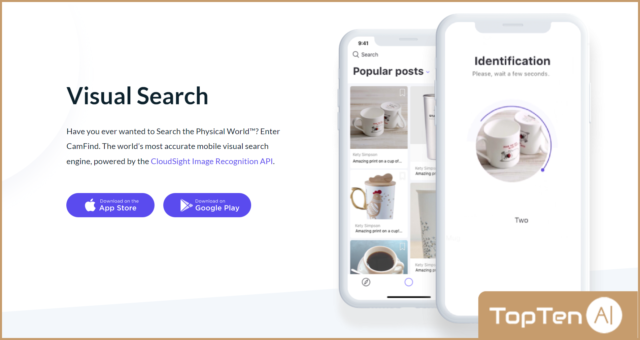 CamFind is a mobile application that utilizes image recognition technology for identifying objects, scenes, and logos, providing users with detailed information. It's perfect for those who want a versatile image recognition tool on the go.
CamFind supports voice search and social sharing capabilities, offering a comprehensive and easy-to-use platform. It delivers accurate image recognition and provides additional information, such as prices and descriptions.
However, CamFind has limitations in some countries and raises privacy concerns regarding business information usage. Users may also encounter ads while using the application.
Pros

Cons

Rich in features
Easy and free to use
Good performance on accuracy

 Some features may be limited in some countries
 Privacy issues should be notable
Ads presentation
7. Bing Reverse Image Search
Price: Free          Rating: 6/10
Notable features: Good performance, great for visual search and shopping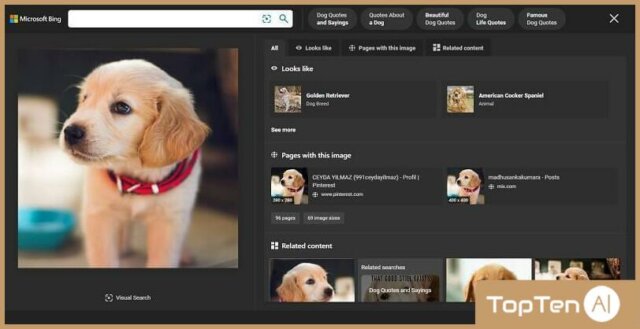 Bing, often underestimated as a search engine, provides a robust reverse image search feature that helps users quickly find similar images. It's particularly useful for those interested in shopping or identifying landmarks, flower species, or dog breeds.
Bing's visual search is complemented by its integration with shopping websites (such as Amazon), allowing users to find products in stock easily. The search engine also recognizes various items, like landmarks and species.
Despite its advantages, Bing's visual search is limited, and it displays fewer results compared to other search engines. Additionally, it lacks advanced filtering options.
Pros

Cons

Good performance
Great for visual search
Great for shopping

Visual search is a bit limited
Doesn't show as many results as other search engines
Could use more filtering options
Price: Free          Rating: 6/10
Notable features: Easy to use, good performance, various filtering options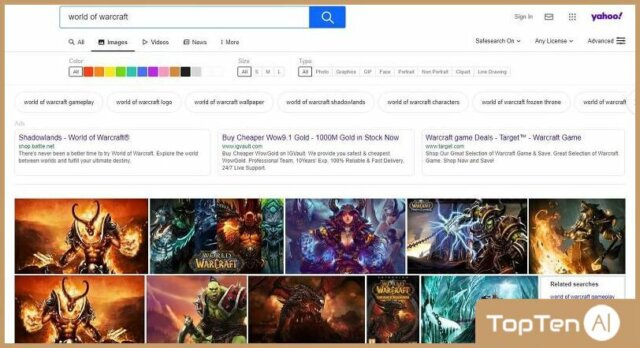 Yahoo Image Search, a resilient search engine, offers a reliable image recognition tool with multiple filtering options. It caters to users seeking a straightforward image search solution.
The tool allows users to sort images by color or licensing type. However, it's relatively basic and doesn't support reverse image searches.
The downsides of Yahoo Image Search include its basic functionality, lack of reverse image search capabilities, and the presence of annoying ads.
Pros

Cons

Easy to use
Good performance
Good filtering options

A bit too basic
Doesn't support reverse image search
Annoying ads
Price: Free. Paid plans starting at $59/mo          Rating: 5/10
Notable features: Versatile, AI-powered, great for businesses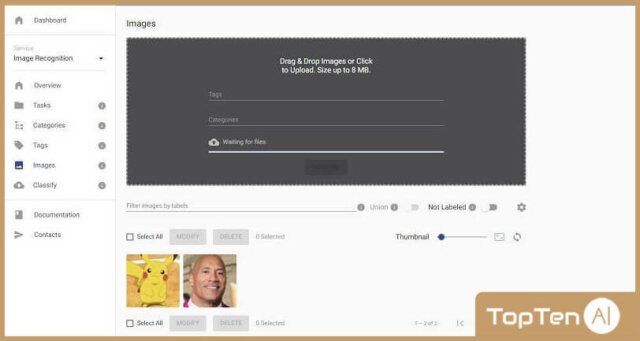 Ximilar is an AI-powered image recognition software designed for businesses in industries like eCommerce, real estate, medical tech, fashion, and surveillance. It's an excellent choice for businesses seeking a comprehensive reverse image search tool.
The software offers custom image recognition, image similarity search, photo tagging, and more. It has a learning curve, but its capabilities are impressive once mastered.
The main drawbacks of Ximilar are its complexity, unsuitability for beginners, and expensive pricing.
Pros

Cons

Very versatile
Great for businesses
Good customer support

A bit too complex
Not the best choice for beginners
Expensive
Price: Free          Rating: 5/10
Notable features: Aggregates results from multiple sources, easy to use, available in multiple languages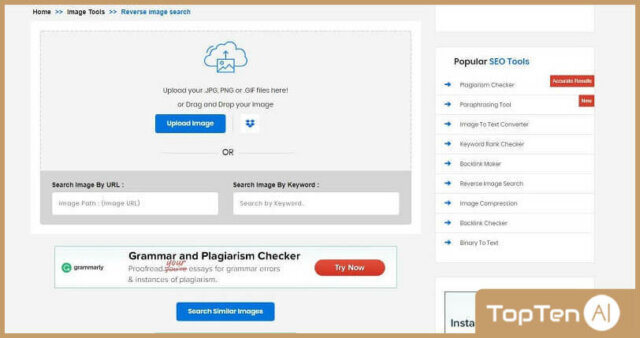 Search Engine Reports is a reverse image search aggregator that compiles results from various search engines, such as Google, Yandex, Baidu, and Bing. It caters to users who want a comprehensive overview of image search results from multiple sources.
Apart from being a search engine itself, Search Engine Reports also supports searching images by URL or uploading pictures from your computer or Dropbox account. The tool is available in over a dozen languages, making it accessible to a diverse user base.
The limitations of Search Engine Reports include the inability to filter by size or type, support for only three formats, and the presence of annoying ads. Despite these drawbacks, it remains a useful tool for aggregating image search results from various engines.
Pros

Cons

Easy to use
Aggregates results from multiple sources
Available in over a dozen languages

Can't filter by size or type
Only supports three formats
Annoying ads
Final Thoughts
In conclusion, this article provided an in-depth analysis of the best reverse image search tools available. We explored the various features, searching capabilities, and user-friendliness of each tool, aiming to assist users in finding the most suitable option for their needs. Reverse image search engines have become indispensable in today's digital landscape, empowering users to protect their images, discover sources, and uncover potential image misuse. By leveraging these powerful tools, users can enhance their online experiences, whether they are photographers, content creators, or general internet users seeking accurate and efficient image search functionality. Choose the right reverse image search tool and unlock a world of possibilities at your fingertips.
Also read: 2020 in Review: Top 10 Amazing AI Projects in Photo & Video.
FAQs:
1. How to do a Reverse Image Search?
The method often varies depending on the engine you're using. For most search engines it's enough to simply upload or link to an image, but in a few cases, the process is a bit more complicated. It's also worth noting that not every engine gives you the option to reverse-search an image. If you want to do a reverse image search, we recommend trying out Google first since that's the easiest one of the bunch. And you can learn how to use Pinterest Lens to recognize image from our reviews, the picture showed you step in details.
2. Which is the Best Reverse Image Search Engine?
As it's often the case with these things, there's some debate regarding the best reverse image search engine. Google is great for the average user but you could just as easily go with an aggregator like Search Engine Reports or a specialized engine like Pimeyes or Ximilar. The best tool is the one that suits you. You can see their features, pros, and cons in our review and choose the one you feel is best for you.
3. How does AI reverse search tool help search images?
AI reverse search tools utilize artificial intelligence algorithms to analyze and compare images. They extract unique features, patterns, and metadata to match and search for similar or identical images across the web, enabling users to discover image sources, track image usage, and identify visually similar images.