Looking for the best NFT art maker to create your own unique and valuable digital artwork? Check out this review of the top 10 NFT art makers, both free and paid. The review covers factors such as functionality, user-friendliness, output quality, and compatibility with different devices and platforms. Ideal for artists, designers, or anyone interested in the exciting world of NFTs.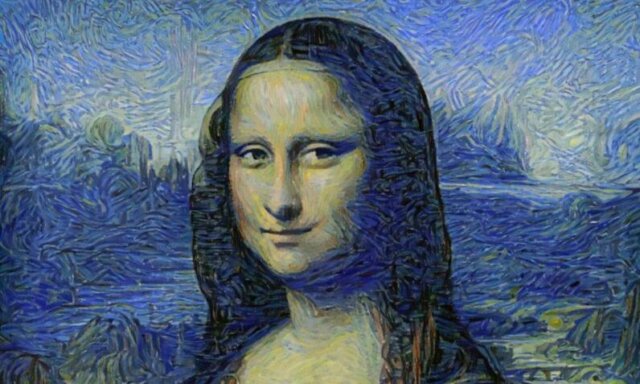 The newest buzz in the world of investing and trading is to collect valuable NFTs, including AI generated images, personal drawings, digital pencil drawings, and so on. This article gives you an introduction to the platforms you need to check out.
NFT stands for Non-Fungible Tokens and are traded using cryptocurrencies, which is the game all the smart investors are beginning to play. Here are a few platforms to get you started:
Top 10 NFT Art Makers
| Product Name | Generating Speed | User-Friendliness | AI-Based | Online/Offline | API Provided | Free/Paid | Suitable for |
| --- | --- | --- | --- | --- | --- | --- | --- |
| NightCafé | ★★★★☆ | ★★★★☆ | ✅ | Online | ✅ | Freemium | Digital artists or NFT enthusiasts |
| SketchAR | ★★★☆☆ | ★★★☆☆ | ✅ | Offline | ❌ | Freemium | Augmented reality hobbyists or pros |
| NFT Art Generator | ★★★☆☆ | ★★★★☆ | ❌ | Online | ❌ | Free | Aspiring digital artists or hobbyists |
| NFT-MAKER PRO | ★★★★☆ | ★★★★★ | ✅ | Offline | ❌ | Paid | Experienced artists or professionals |
| NFT Creator! | ★★★★☆ | ★★★★★ | ✅ | Online | ❌ | Paid | Artists, designers, or creatives |
| GoArt | ★★★☆☆ | ★★★☆☆ | ✅ | Online | ❌ | Freemium | Casual users or amateur artists |
1.    NightCafé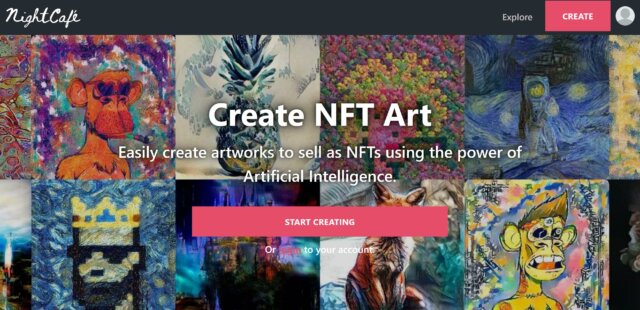 This NFT art maker is one that leaves you in wonder. Using AI-powered technology and machine learning the platform creates transcendent images that create awe. Create, manage, and view your artwork across devices and use their unique creation tools for art that stands out.
They have a 'bulk create' option that helps you create hundreds of art pieces within minutes. Great, right? There's more! All this artwork is code-free, which means it's easy for you to 'get behind the scenes' per se and take actual control over your work.
With the free version, you can create up to 2 artworks per day, but this NFT maker app is so powerful that you will definitely want the upgrade. The most popular option they have is to convert text to images or videos! You can also transfer styles to combine two of your favorite pieces for a truly unique finding.
Pros
Night café manages your NFT artwork across devices and offers you a bulk creation option without any coding.
You can have fun with hundreds of unique filters and tools that the AI offers for NFT.
Cons
The free version of Night café allows you to create only 2 art pieces a day, so you must eventually buy a paid subscription.
2.    SketchAR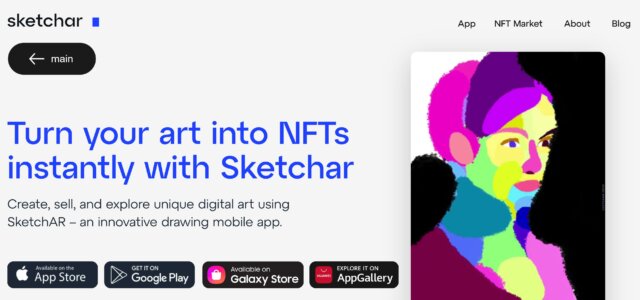 Another NFT generator is SketchAR. They transform digital art into NFTs, instead of helping you make NFT digital art like the previous app. Why this one is so unique is because you can create NFT art, share it with people, and learn how to be better. SketchAR picks the top artists every week and converts their work into NFTs for free.
This is very motivating for young artists that want to hop onto the digital art revolution while also creating a secure future for themselves that stems out of their passion.
Pros
You will have a merged AR and AI experience while creating art on your images using Sketchar.
Sketchar offers step-by-step guides and drawing courses to its users for free.
Cons
The images are sometimes shaky, and the filters make them a bit dark.
If you prefer to make sketch drawings as NFT, luckily, there are many such tools to help you convert photo to sketch online free.
3.    NFT Art Generator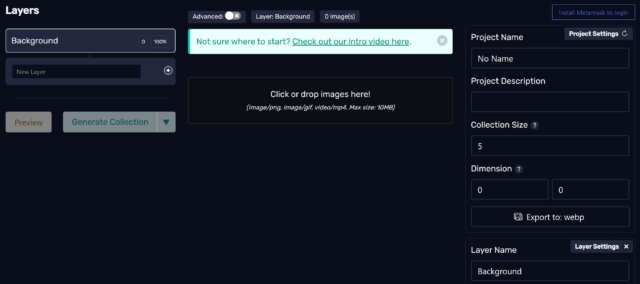 If you're looking for an NFT maker online, this one is great. You can create your art, decorate your collection, sell it, and create a community. You can create NFTs of gif, png, and mp4 formats so there's a wide arena for you to explore your talents.
You can work on your artwork using multiple layers just like in other software that digital artists use to create digital art. When you log onto the website, it takes you directly to the workspace where you can begin combining different layers to create unique illustrations. The UI is straightforward and easy to use, so if you're a beginner, you won't have to worry about a very steep learning curve.
Pros
NFT Generator Art allows you to generate NFT in multiple formats, including PNG, GIF, and mp4, that you can sell and create a community online.
The website of NFT Generator Art is relatively straightforward, and you can get the hang of it in no time.
Cons
The illustrations and graphics are limited compared to other NFT creators.
4.    NFT-MAKER PRO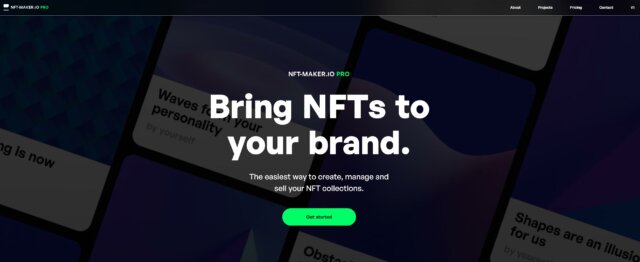 Maker.IO is connected to the Cardano blockchain. Essentially, it allows you to trade NFTs using ADA, except that a lot of the calculations and transactions are taken care of by the software. You only need to pay when you buy or sell NFTs and any fees you would have to pay are accounted for in the amount they would ask you to pay.
This makes it so much easier for beginners to enjoy the best of both worlds. Their feature of mass minting allows you to mint as many NFTs on the Cardano blockchain as you wish to, and stores all your data on IFPS servers.
Their target audience is companies, brands, and large-scale committed creators who wish to begin creating a digital legacy in this modern age.
Pros
NFT maker allows beginners to mint and sells NFT to big brands that are part of their target audience.
You can also trade NFT on NFT Maker using ADA while the platform takes care of all the transactions.
Cons
Trading of NFT is only possible with NFT Maker Pro, for which you will have to pay.
5.    NFT Creator!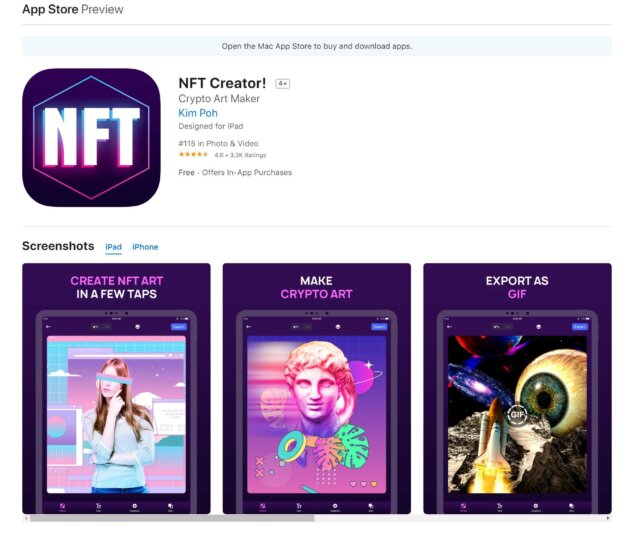 To make NFT art easily on an iPad, NFT creator is the way to go. You can import your photos onto the app, add filers, fonts, graphics, and backgrounds to edit those photos. Its features are really hip and if your audience is younger, the backgrounds, filters, and graphics on this app are truly very contemporary.
Once you've finalized your art and exported it, you can sell it on NFT marketplaces of your choice.
This is quite an affordable option, especially if you pick the yearly package. Compared to how much you can potentially make by creating and selling NFTs, the subscription fee is a small price to pay.
Pros
NFT Creator offers you 1000+ background options, 1000+ fonts, and 100+ artistic filters and crypto graphics to add a painter's touch to your photos.
You can work very well on NFT Creator, even if your editing skills are not excellent.
Cons
You need to have iOS 13 and MacOS 11; otherwise, you won't be able to operate the app.
6.    GoArt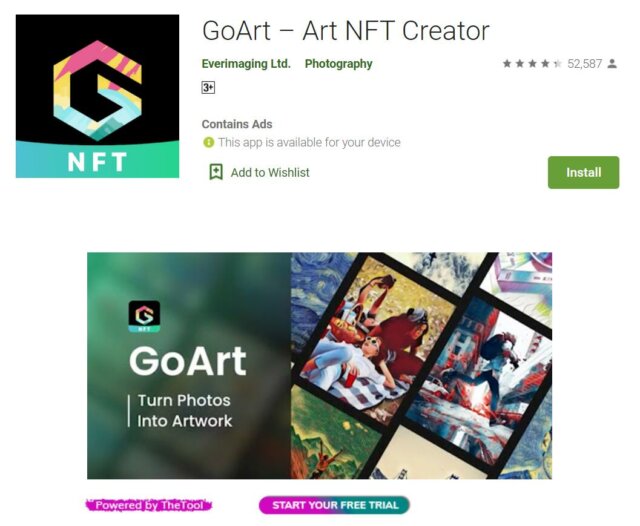 The previous one really was for Apple users, but this one is for Android users. You can turn regular photos into stylish art by combining classic techniques from age-old artists. Imagine how cool an NFT would be of the most random thing you see on the street in 2023, made into an artwork that looks like it was made by Van Gogh.
Using advanced technologies, this app creates impressionable artwork that looks legit. What's more, if you want, you can print those on a t-shirt and show off your talents to anyone that crosses you!
Of course, like any money-making idea, this one also requires a little bit of investment. This means you might need to make a few in-app purchases to unlock premium features and of course, nothing works out without you putting in the time. But there's a reason this app is rated more than a 4 on 5 on Play Store.
Most consumers are satisfied, and recognize that the initial investment is worth it!
Pros
The extensive artistic filter range in GoArt loads and apply super-fast to your images.
The interface of GoArt is pretty simple and allows you to print your HD NFT art so that you can sell it.
Cons
You need to buy their subscription for premium templates after the 3-days free trial ends.
Also read: Top 15 AI Painting Generators Review 2021
7.    HotPot.ai
Do you want to be a part of the NFT movement but don't believe you've got a creative bone in your body? Even if you're not very imaginative and don't have those artistic ideas that other people seem to, NFTs can still be for you. All you have to do is find an NFT maker online. HotPot.ai creates amazing art combinations for you.
All you have to do is upload an image, define layers, and leave it up to the software to do the rest. You can choose to make a personalized NFT, or even enlarge NFTs without worrying about the quality of the image. Want to create an NFT out of an old picture? You can also sharpen old pictures so that their quality is top-notch, while the integrity of the subject captured is appreciated better.
Pros
You get to use AI Spark writer, a feature of Hotpot, to give new artists ideas and inspirations for NFT creation.
Hotpot offers monthly passes for unlimited art creation and covers all those who can't afford to pay.
Cons
The quality of the images that you turn into NFT needs improvement.
8.    NinjaFT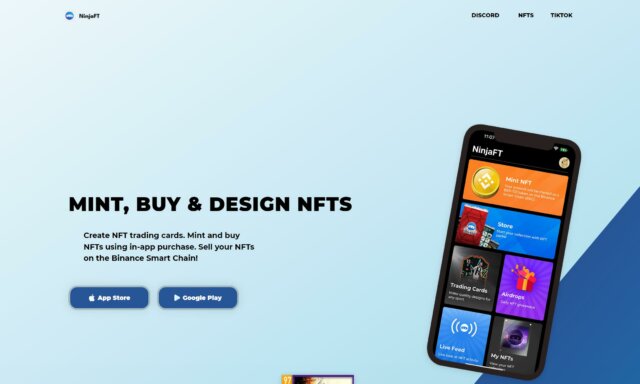 This NFT maker is linked to the Binance BlockChain and allows you to trade on it. Available on iOS and Android, NinjaFT is one of the world's finest. There are a bunch of templates you can choose from, and it is amusing to experiment with. With the easiest UI, you should have no trouble creating NFTs.
But if you still have trouble, NinjaFT is one of the few that really made the effort to engage more audience and get more people involved in NFTs. You can join their discord, where you can learn a lot more, network, and get started on the NFT trading journey.
Trading cards with NinjaFT is so much fun, it can almost become a hobby and remind you of your childhood, as it has for many users. You can also create custom gifts and surprise special ones.
Pros
You can enjoy hundreds of fun templates, NFT packs, and NFT minting even if you have iOS 11.
Ninja NFT offers you fun giveaways and exclusive items only for checking in the app every day.
Cons
You can create unique designs using Ninja NFT, but you will have to purchase them.
9.    VoxEdit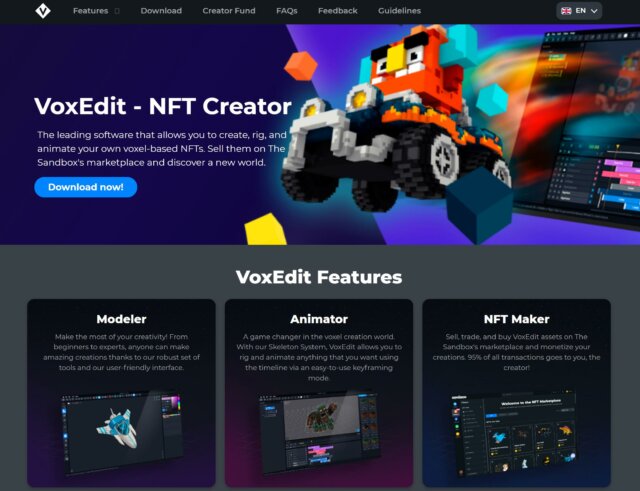 This NFT art generator allows you to sell NFTs on Sandbox's marketplace. In the Sandbox metaverse, you trade with $SAND tokens while exchanging NFTs. It fuses a modeling editor with an animation system, which is a really cool feature, capturing an audience that loves bringing to life graphic images.
For voxel artists, this is the way to go, but even for beginners, the interface is easy to use and quick to get used to. As the creator, you get up to 95% of all transactions. Such a sweet deal!
Pros
You can create the most fantastic gaming visuals with VoxEdit features like modeling, animator, and block editor that give complete freedom to the artists.
You can view other artists' work on VoxEdit and purchase it as well.
Cons
VoxEdit has a 128-cube restriction that might not work for every artist.
10.   Fotor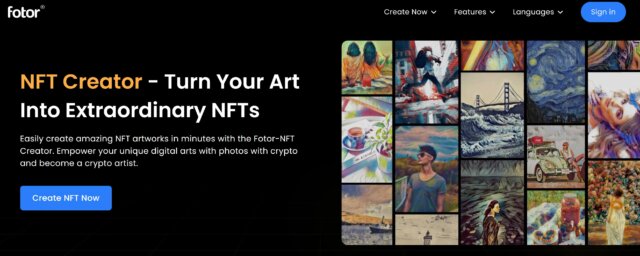 When you go to their website, the first thing that catches your eye is the line "Everyone can be an NFT artist". Fotor makes it possible for people with absolutely no art skills to create NFTs using AI technologies.
All you've got to do is upload your image and choose an art style and the software does the rest for you. There's no need for you to learn how to code, you only need to make your own layers and do some editing according to your tastes, which of course, can be as minimal or extra as you would like (artistic freedom, right?) and you're good to go.
You don't even need to create an account to be able to download what you've created, which definitely gives this one an edge over some of the other digital art generators we talked about before.
Pros
Fotor doesn't require coding or any editing expertise to convert your photos to NFT and crypto art.
You get to experience plenty of designs, filters, editing, and effects options that you can use by doing a few clicks.
Cons
If you close the app by mistake without saving your art, Fotor will not autosave the state of your session.
Also read: Top 10 Photo Mosaic Makers Review
Conclusion
Which NFT Art Maker do you think you want to try? You can try out a couple or mix and match if there are different templates and graphics you like on different platforms and wish to combine them. The coolest part is that you do not need to commit to a platform when creating an NFT. You're in charge!
FAQs
1. What is NFT digital art?
Non-Fungible Token digital art is a unique asset on a blockchain that cannot be repeated. This makes it one of a kind and its value is more or less decided by people who would want to obtain that NFT.
2. How to make NFT digital art?
You can use a variety of these platforms mentioned above to create NFT digital art. Alternatively, you can also use offline software to illustrate your art and upload it on a blockchain using these websites. You might or might not need extra hardware to make that art, depending on whether you want to spend more time on the creation of the trading part of NFTs.
3. How to sell NFT art?
NFTs are sold on crypto marketplaces and are bought using the specific cryptocurrencies of the marketplace it is being traded-in. To sell, you might need to pay a small fee, which means you need access to cryptocurrency before you can sell NFT art. Luckily, NFT art can sell for much more than the fee required to sell, so you will be making money in the long run.