Summary: Now everyone can make your own memes easily and quickly with these free best 10 AI Meme Generators.
In this age of the Internet, I bet you've encountered times when you wanted to make your own meme but didn't know what to do at the time. No matter how you feel about it, memes have taken over the internet and are here to stay. As a general rule, memes are meant to make people laugh but may also anger them.
A wide range of free tools and applications make it simple to make your memes. Creating your meme is a great way to fight back against someone else's being turned into a meme. Here's a quick guide on getting things started. Read more: Top 10 3D Image Makers Review.
*Note: When using memes, it is important to use them responsibly and not to use them to mock or harass others abusely.
Best 10 AI Meme Generators Review (Updated April 2023)
This is the preview table we created after reviewing and summarizing the top five products. Continue reading if you want to know more.
| Features | Supermeme.AI | Imgflip | Kapwing Meme Generator | iLoveIMG | Github meme-generator |
| --- | --- | --- | --- | --- | --- |
| Platforms Supported | Web | Web | Web, Mobile | Web | Web, Mobile |
| Customization Options | Limited | Extensive | Limited | Extensive | Limited |
| Image Editing Tools | Basic | Basic | Advanced | Advanced | Basic |
| Image Upload Support | ✓ | ✓ | ✓ | ✓ | ✓ |
| Watermark on Output | No  ✗ | No ✗ | ✓ | ✗ No | No  ✗ |
| | | | | | |
| Price | Free | Free | Paid | Free | Free |
1. Supermeme.AI
Pros
AI-powered meme generation for creative and unique memes
User-friendly interface that simplifies meme creation process
Vast library of templates, images, and fonts to choose from
Cons
Limited customization options compared to open-source alternatives
Internet connection required for meme generation
SuperMeme.ai has emerged as a popular meme maker, leveraging AI technology to generate creative and unique memes. With its user-friendly interface and a vast library of templates, images, and fonts, users can effortlessly create engaging memes with text. However, it may not offer as much customization as open-source alternatives, and an internet connection is necessary for meme generation. Nonetheless, SuperMeme.ai is a fantastic option for those seeking a simple and free solution for their meme-making needs.
2. Imgflip

Pros
Additional text boxes can be added with just a click
Users can customize the font size, color, and width
Cons
Some features require a Pro subscription to use
Limited features.
The Imgflip Meme Generator's top 48 most popular Meme Templates were used to train the network's neural nets using public photos. It's very easy to use just pick a template and click. Because the training data was not filtered for profanity, you risk seeing offensive language.
A deep artificial neural network generates these captions. Text creation has no hardcoded parameters other than a cap on the maximum text length for sanity reasons. Character-level prediction means that you may impact the resulting text by defining the prefix text of one or more characters. A prefix made out of a person's name or other brief text works well.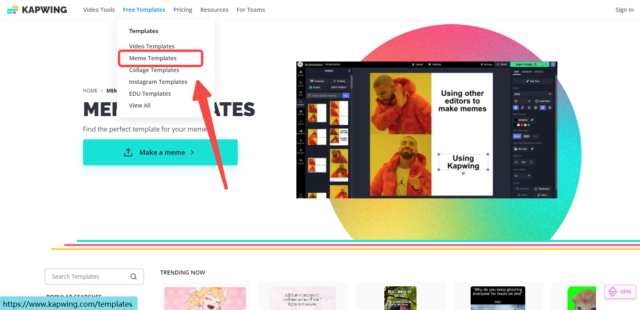 Pros
have unlimited videos without watermarks.
Suitable for those who work in the creative sector.
a top-notch level of client care.
Cons
Some features require a paid subscription
It's pretty uncommon for meme producers to provide only the basics. As a result of Kapwing's efforts, that is about to change. It's a cutting-edge video-editing tool for creatives and social media influencers. To create memes while on the road, you may use the web-based software's mobile applications for Android and iOS.
Kapwing provides a wide range of templates, from basic text-over-images to maps of the United States presidential elections. Despite its complexity, the user-friendly design makes it easy to access all its capabilities.
4. iLoveIMG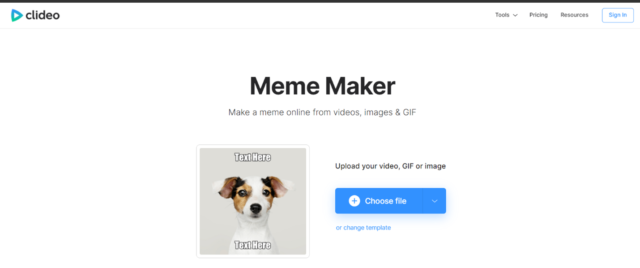 Pros
A database of hundreds of meme formats to choose from and customize.
Powerful search and organizational tools to make navigating that database easier.
Cons
They established iLoveIMG as part of their endeavor to make the world of online editions easier. This means that mass picture editing is now a snap! You'll have more time for other problems if you do. Just about every kind of image manipulation you can think of is covered in this comprehensive guide. With only a few clicks, you can even create animated GIFs. As if that wasn't enough, it's completely free.
Our tiny engineering staff is dedicated to making sure that you have the best possible experience when using our services, and they do it with the understanding that you are at the center of all they do. However, we're still working our minds to come up with brand new, cutting-edge tools to use.
5. Github meme-generator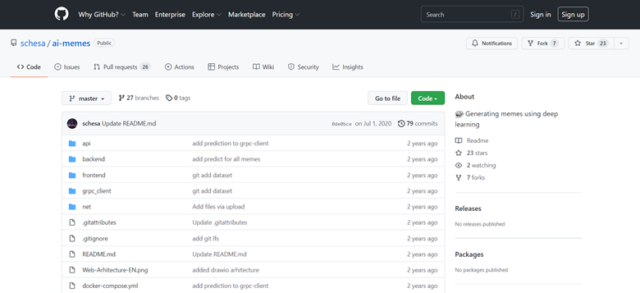 Pros
Fully customizable Meme pictures, open-source projects are highly customizable
There is a big community with all the users. You can initially post your creation there and check others to get more ideas.
Cons
Requires some technical knowledge and programming experience
GitHub meme-generator should be known to you. When it came out, it had one of the top meme makers. The GitHub meme-generator will guide you through creating the funniest meme possible.
This platform is a no-brainer with the most straightforward user interface and many easy-to-use meme-making devices. There are also many customization options to make use of, as well as the fact that it is free.
6. Meme Generator
Use of Meme Generator is one of the simplest things you can do on the internet. It gives you quick access to the most popular memes and places the content in the proper place for you. Change my mind" meme, for example, will instantly place any text on the sign. You may rearrange the text even after you've input it.

Pros
Thousands of different meme templates to choose from
Automatically positions text within the meme.
Powerful search tools to help you find exactly what you're looking for.
Cons
More features are needed.
7. Invideo

Pros
Hundreds of meme templates
Supports GIFs
Cons
Using InVideo, you may create your meme and share it with your friends. Use the platform to make emoji, text, stickers, and other types of memes. Initially, the most popular meme of all time will continue to be updated. In addition, the user-friendly design makes it simple to create memes, and millions of people will gladly share your amusing memes.
8. Make a Meme

Pros
Layer support
User-friendly interface
Power editing tools
Cons
Make your first meme now! The Make a Meme generator allows you to create a wide variety of memes, like this one. All you have to do is upload your photos, add some text, and then export them in the format of your choice. Memes may be shared on various social media sites, including Twitter, Instagram, Facebook, and even YouTube!
9. Clideo Memes Maker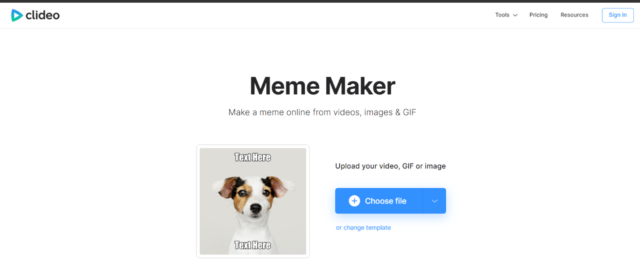 Pros
30 million users
Millions of meme templates
Supports videos and GIFs
Cons
Memes Maker is one of the most widely used tools allowing users to make their original memes. You don't need any prior picture editing knowledge to utilize this app with more than 30 million users. There are millions of meme templates to choose from, and you can add your content and submit it in a matter of seconds. The Mank to Game of Thrones may all be used in Memes Maker's video library. Even sporting events may be edited. All-in-one platform merits your attention regardless of the kind of memes you want to generate.
10. Clipchamp
Go ahead and edit your video with our online editor, then choose an aspect ratio and begin uploading your films. Check out our Stock Library if you don't already have video footage or are looking for something different. Over 800,000 royalty-free video and audio files are available here. You may locate memes by searching their motion title collection. To add it to your movie, all you have to do is drag & drop it into the timeline. You may then edit the wording to make it uniquely yours.

Pros
Hundreds of photos and illustrations
Customizable text editor
Social sharing options
Cons
Conclusion
As a result, producing memes of your pals and having an excellent source of pleasure is no longer a challenge. We'd love to see what you come up with using the finest meme-making apps. We'll be more motivated to assist you in acquiring more reviews in the future. Creating humorous memes with your pals may be a great way to spend time together. We appreciate your help and consideration.